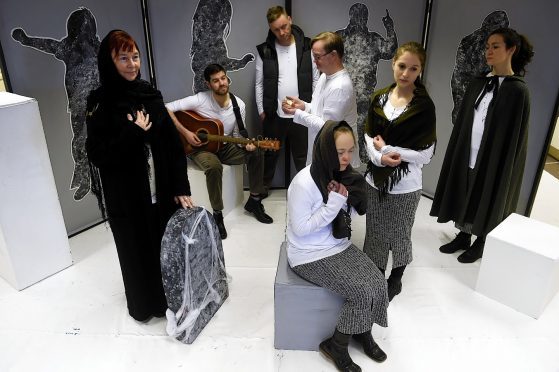 A Moray theatre group is staging a show which celebrates the quirks of the region's rural communities, after receiving a £50,000 cash boost.
The Out of The Darkness company has spoken to villagers, young and old, in an effort to shine a light on little-known stories from four villages.
Children from Knockando, Logie, Portknockie and Crossroads all contributed their experiences of country life to the My Rural, My Space project.
And their grandparents joined in with old friends to share anecdotes from their years in the community, which have been woven through the piece.
Artistic director for Out of the Darkness, Tina McGeever, said the idea behind the show was to draw attention to parts of Moray that may otherwise go unnoticed.
She said: "We are really interested in using people's own stories and the whole show is based around that.
"We have located it in four areas which maybe don't get the same opportunities to express themselves as others.
"We worked with primary schools, getting the children to tell us what 'hame' is to them.
"In some cases, it was things like their granddad's farm, or their granny's kitchen, and these appear in the show.
"We also spoke with groups of older people, getting an idea of how these places used to be."
My Rural, My Space tells the true story of a man from Liverpool acclimatising to life in Moray by meeting some of the region's colourful characters.
Ms McGeever added: "There is a scene where our protagonist meets a man speaking Doric, and mistakes the dialect for Polish. There are a lot of funny moments like that, which locals will be able to relate to."
The group began researching the piece after receiving £49,750 from the People's Millions lottery fund.
A run of free shows will begin at Crossroads Primary School on Monday, with subsequent performances taking place daily at Knockando's Margach Hall, Dunphail's Edinkillie Hall and Portknockie Primary School.
Daytime shows will be held for the children who helped craft the piece, with evening performances at 7.30pm.
A final presentation will be at Elgin's St Giles Church on Friday at 7.30pm.