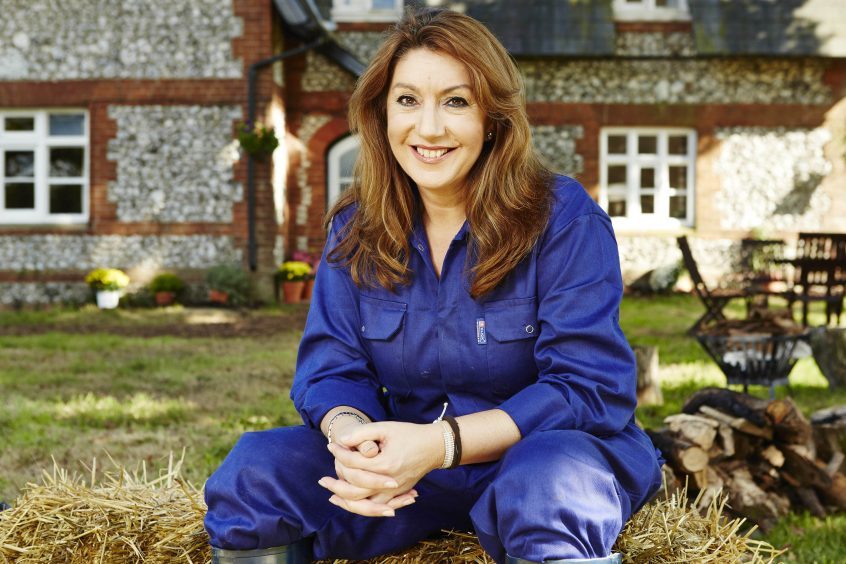 Former Loose Women star and singer, Jane McDonald never realised how much sugar was affecting her health and weight. She reveals her new diet secret to Gabrielle Fagan
There's definitely a new spring in Jane McDonald's step this year, as she celebrates a new figure – and a new approach to life – declaring: "I look and feel completely different."
In a figure-hugging black trouser suit showing off her trim new size-10 shape (down from 14/16) she's positively glowing as she talks about shedding a stone and a half (9.5kg) after taking part in ITV's new show, Sugar Free Farm.
The three-part series sees her and fellow celebrities (James Argent from Essex reality show, TOWIE; former Brookside actress, Jennifer Ellison; comedian, Rory McGrath; ex-Coronation Street actress Tupele Dorgu; and quiz mastermind and The Chase star, Mark Labbett) living without sugar while they work on a country farm, in return for their share of healthy home-grown food.
"I actually went into the programme thinking my life was perfect," admits the 52-year-old Yorkshire-born performer, ruefully recalling what turned out to be "a shocking wake-up call" about her health and diet.
"The whole experiment was being overseen by a nutritionist, Angelique. But I honestly thought she wouldn't have one thing to tell me. I smugly assumed she'd just say, 'Jane, you're healthy, you're fine, carry on'. Instead she said: 'You've got to cut this, that and the other out, and you need to sort your health and weight out now!"'
While McDonald, who's now 10 stone, hadn't considered her weight an issue "although it yo-yoed and I'd always lose a bit with a lot of effort but then gain it back", she had been concerned about her cholesterol. She is genetically predisposed to high cholesterol, which can increase the risk of heart attack and stroke.
Despite that knowledge, she was taken aback when the farm's medical expert told her "the high level equated to the sort of fatty diet where someone would typically eat for instance, a full English breakfast, fish and chips for lunch, a take-away in the evening as well as indulging in sweet snacks. It didn't make sense to me because I didn't eat like that at all," she says.
"I've always tried to eat healthily although things could go awry when I was touring because often it was only possible to eat out."
Her sweet tooth, however, was quickly identified as one of the causes of her problems.
"I hadn't realised how sugar-heavy my diet was – I'd have sweets when I was travelling and scoff biscuits and cakes if I felt my energy drop. I was the sort of woman who thought life was too short not to have a scone, and I did drink a lot of wine – around a couple of glasses a night," she acknowledges.
McDonald, who first found fame as a singer 18 years ago on BBC documentary, The Cruise, is incensed that, over the years, she's unwittingly undermined her attempts to improve her health by opting for 'low-fat' foods.
"I was told that fat was my enemy and advised by medical experts to eat low-fat food, but now I realise most of them actually contain double the sugar," she says vehemently.
"Also, I never realised so much sugar is hidden in food, even in savouries such as – what used to be my favourite snack – crisps. Sugar's such an addictive substance and somebody should be arrested for introducing this poison into our system for all these flipping years! I can't believe I've been unknowingly poisoning myself with the stuff."
A two-week stint on the farm working outdoors in the fields, and eating only nutritionally balanced meals – fresh fruit, vegetables and meat and fish – was "a revelation", she says delightedly.
"It was hard at first, but reawakening and re-educating your taste buds is amazing. It was a complete detox. Suddenly I was filled with more energy than I'd had in years. I'd even wake up at the farm before the 5am alarm to simply enjoy the sunrise and peace, which is extraordinary as I've never been a morning person. When the show ended, I didn't want to leave the cocoon of it because I was so afraid I'd go back to my old ways."
However, the show has had "a lasting impact" she says.
"My palate just doesn't like sweet things any more, so you don't feel deprived. Even when I try to eat something sweet, I can't – my body just won't tolerate it any more.
"Another wonderful bonus is regular headaches, which I'd suffered for years, just disappeared."
Her diet nowadays, she says, consists of daily portions of oats and fresh fruit, and meals including vegetables and meat for five days with fish twice a week.
"One of my favourite meals is sausage, beetroot and kale – can you believe that? A year ago, I wouldn't have dreamed of eating something like that."
She's a firm believer in fate and says taking part in the programme was "meant to be" in the same way quitting the Loose Women panel and taking a work break in 2014 was, because it allowed her to star as Grizabella and sing Memory in Andrew Lloyd Webber's Cats The Musical last year.
"That was the most amazing experience which I never believed would happen to me," says the down-to-earth miner's daughter, who took over from Nicole Scherzinger as the oldest performer to take on the hugely demanding role and was widely acclaimed for her performance.
"I didn't even realise I was capable of what the show brought out in me. I felt all those years working on the ship and going around the clubs had helped me be the person who could take it on. It really raised my sights," she says. She's currently planning a new nationwide singing tour starting in September.
As well as a thriving career, she also enjoys a happy personal life after two failed marriages. She and Walter 'Eddie' Rothe, 62, a former drummer with pop bands including The Searchers and Mud, whom she briefly dated in 1980, reunited eight years ago.
"I want to enjoy some great years with Eddie and for us both to be healthy so we can do a lot more in our lives together. We both enjoy this new way of eating and I couldn't be happier," she says.
"Without doubt, taking part in the Sugar Free Farm is 100% one of the best things I've ever done on television and I will be forever grateful to it. It appealed initially because I'm not getting any younger and knew I needed to have enough energy so I could carry on doing my hugely demanding job and I thought it might be useful. I never expected what it actually brought. I'm full of confidence and new plans and life couldn't be brighter."
:: Jane McDonald is one of six celebrities appearing on Sugar Free Farm, from January 26 at 8pm on ITV.