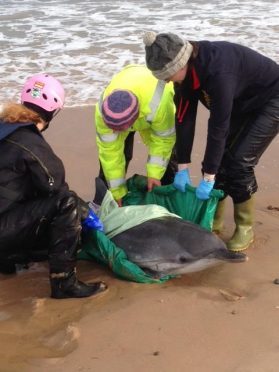 Attempts to rescue a dolphin that became stranded on a Moray beach ended sadly yesterday when the ailing animal had to be put down.
Staff from the The Spey Bay Whale and Dolphin Centre raced to Lossiemouth's East Beach at around 11.30am following reports that the marine mammal had somehow drifted onto dry land.
The team managed to return the striped male to the water at first, but after 15 minutes at sea it began tilting onto its side and floated back on shore.
Realising that any effort to save the animal's life was unlikely to succeed, the team opted to euthanise him to spare any further distress.
Manager of the Moray conservation centre, Alison Jordan, said: "We had managed to return the dolphin to the water once, but quite quickly it started listing over.
"That is always a bad sign, and it unfortunately stranded again."
The crestfallen rescuers appealed to experts from the British Divers Marine Life Rescue (BDLMR) group for guidance on how to proceed.
Ms Jordan added: "They said it would not do the animal any good to re-float it again, that would just cause it more stress."
While waiting for a local vet to euthanise the struggling creature, the Whale and Dolphin Centre staff kept it as comfortable as possible by digging space into the sand for its fins and showering it with water.
The dolphin's body will now be analysed in Inverness, where experts will ascertain its age and the cause of death.
Members of the public are urged to contact the BDLMR on 01825 765546 should they spot any sea creature in distress.