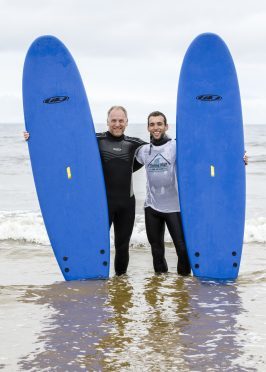 A Moray surfing school which was controversially waylaid when the volunteer who ran classes was banned from his local pool has been nominated for a top award.
Kevin Anderson and Glyn Morris pioneered popular classes for autistic youngsters along the region's beaches and at Moray Leisure Centre in Elgin during 2015.
But, late in the year, leisure centre management barred Mr Anderson from its pool for three months, after he allegedly breached health and safety rules by taking a boy into waters beyond its halfway point.
Furious parents said their children were never at risk of harm, and were devastated at having to miss lessons over winter.
Despite protests against the ban, Moray Leisure Centre management refused to overturn the edict and insisted it was made in the interests of public safety.
Surfing school organisers, who are now looking into ways to resume the classes, received a boost yesterday when it was nominated for a National Autistic Society prize.
The initiative has been commended for "making a real difference to the lives of people with autism".
The surf school has been nominated as "most creative community project" and Mr Morris has been individually shortlisted for the "most inspirational volunteer" award.
Yesterday, Mr Morris said: "We will start our outdoor lessons in April, and in the meantime we are still talking with Moray Leisure Centre and looking for ways to resume sessions indoors.
"We want the school to be bigger and better when it starts again, and to receive recognition like this reminds us how important what we're doing is."
Mr Morris began advocating for public places to be made more open to autistic youngsters five years ago after his son Gregor, then 12, was ejected from a London theatre for being noisy.
He has since campaigned tirelessly to ensure autistic people receive fair treatment, and has helped theatres to stage "autism-friendly" performances.
On his individual nomination, Mr Morris added: "I almost feel a bit embarrassed being up for this award, as I just feel that I am doing what any parent would.
"But if that does inspire similar efforts in others, then that is fantastic."
Finalists were selected by a panel of 11 autism experts, and winners will be revealed at a bash in Telford on Tuesday, March 1.