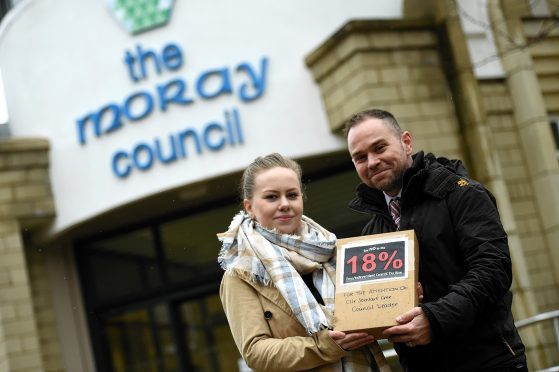 More than 1,000 Moray residents have backed a campaign urging the local authority to abandon divisive plans to increase council tax.
A petition circulated by the region's SNP group attracted roughly 1,100 signatures in the space of a week, and was delivered to council chiefs yesterday.
Earlier this month, Moray Council's independent-led administration group unveiled plans to scrap the council tax freeze in an effort to plug a massive hole in its budget.
Council chiefs said an 18% increase was essential to shield vital services from cuts, after a £5million reduction in government funding left the body facing a deficit of nearly £12million.
But Moray's SNP group has mounted a crusade against the proposal, claiming that unfreezing the levy will financially cripple hard-up residents.
Members say residents were "queuing up" to urge the council into a U-turn when the petition was launched in Elgin town centre on Saturday, January 16.
Over the following week Nationalists canvassed Moray locals on their doorsteps, and attracted hundreds more backers online.
SNP supporters Jo-Ann De-Sykes and James O'Connor were tasked with handing the weighty papers in at the local authority's Elgin headquarters.
Miss De-Sykes, 19, said: "People were just flocking to us to sign this petition, which goes to show the strength of feeling against these plans.
"A lot of families in Moray are already in a difficult financial situation, and this is quite scary to them."
Mr O'Connor, 42, added: "This proposal would have a huge effect on everybody, no matter their way of life."
Moray Council leader Stewart Cree stressed the authority would be forced to make unpopular cuts to services should the proposed council tax hike be abandoned.
"I'd like to remind people that in the council's basements there are petitions urging me not to cut services like libraries and primary schools that would dwarf this one," he said.
"Many people have said to me they don't care what the council does to make ends meet as long as we don't cut their services."
Leader of Moray Council's opposition SNP group, Gary Coull, said the authority could balance its books without resorting to breaking the nine-year agreement to leave council tax at 2007 levels.
He said SNP councillors were "working towards alternative proposals" which could solve the cash-strapped council's funding woes.