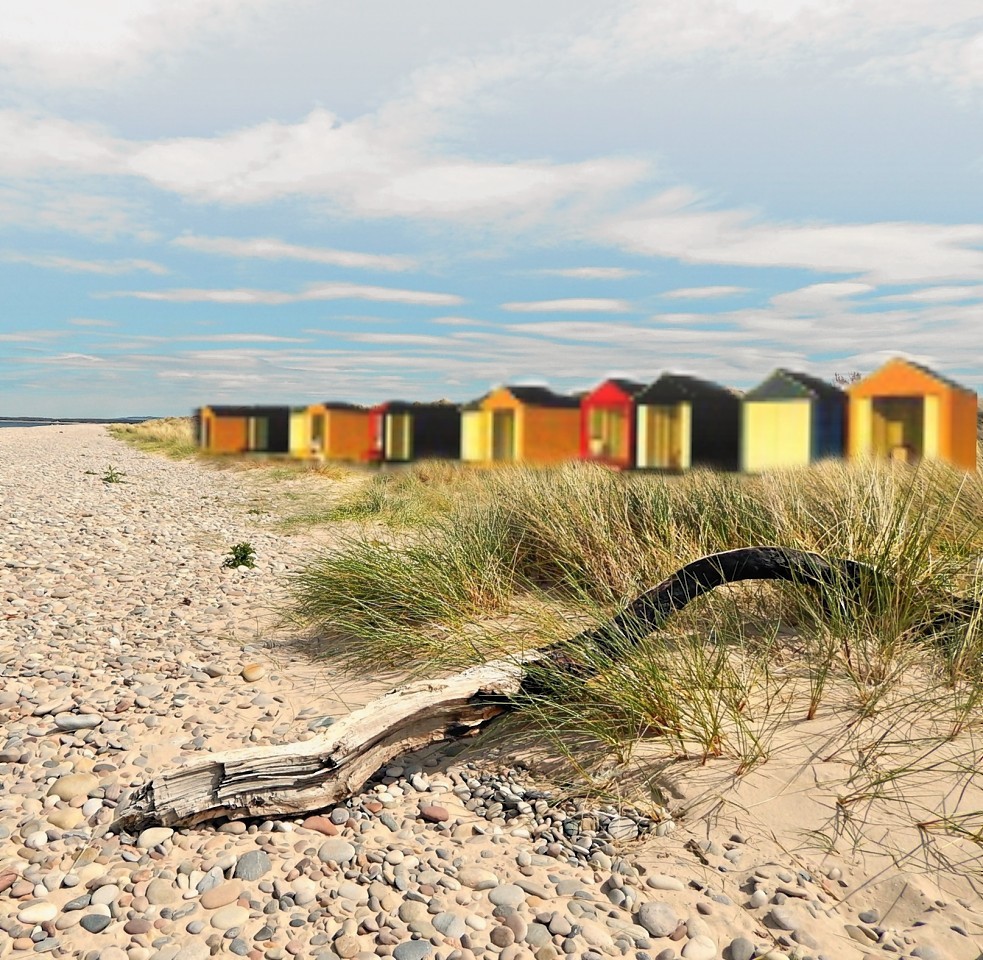 Campaigners have lost a legal battle against plans to build a row of beach huts along a stretch of Moray coast.
Villagers in Findhorn were left bitterly disappointed last night after the Court of Session paved the way for Inverness-based A1 Architects to build the seafront shelters.
Moray Council originally approved proposals for 30 multicoloured huts on the dunes at Findhorn's north beach, despite huge local opposition.
Outraged residents later raised £20,000 to cover legal fees and mounted a court challenge to the local authority's decision.
They hoped a judge would order the council to revoke planning permission.
During a four-hour hearing, Lord Armstrong heard arguments from QCs acting on behalf of the council, 1 Architects, and objectors.
And in his ruling he said: "There was evidence of anticipated benefits arising from the proposed development under consideration, in the form of enhancement of the area as a tourist destination with associated beneficial impact on the local economy.
"I find that Moray Council did not err in law."
Campaigner Christine Hunt said the beach huts, which will be sited along 324ft of beach, would be "a travesty" for the beauty spot.
And she added that her fellow residents had been "terrified" by the prospect of the plans going ahead.
Last night Ms Hunt said she was "very disappointed" by the ruling.
Moray Council's planning and resources committee approved the scheme in May – despite objections from 173 residents.
Angry villagers clubbed together to hire an Edinburgh-based QC to present their case to the Court of Session in the capital.
Last night, a Moray Council spokesman said: "It is a great shame that this issue had to be tested in court, which is likely to result in significant costs to those supporting the action.
"Planning is a relatively subjective matter, and generates opinions for and against many decisions made by authorities.
"However, Moray Council was confident that the decision to approve the beach huts application was sound in law, and the reasons for this were explained to the petitioners from the outset."
Developer 1 Architects put the scheme on hold while it was subject to legal proceedings, and withdrew a batch of huts from the market.
The firm yesterday welcomed Lord Armstrong's verdict, and said it would now resume planning for the development.
Managing director, Ian Sutherland McCook, said: "We're obviously pleased with the decision, but we don't view it as a victory in any kind of battle.
"We have never complained about any of the objections that have taken place, the protestors were perfectly entitled to contest the plans in court.
"Our intention has always simply been to bring beach huts back to Findhorn, which were popular here for decades before.
"We have always been quietly confident that was the right thing to do.
"Although there have been objections, we have also had a lot of support – though it has been voiced more quietly perhaps."
Inspired by efforts at Hopeman, which currently has a 15-year waiting list for huts along its beach, A1 Architects hopes to rent the properties out.
It estimates that, if taxed, Moray Council could rake in £22,500 annually from the huts.