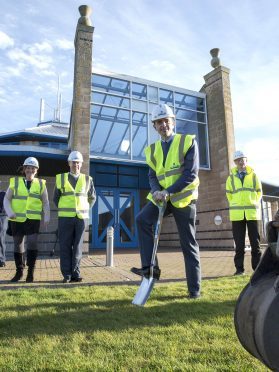 RAF Lossiemouth has launched a £1million project to improve life for the families of its personnel.
Construction has begun on a major scheme to extend the station's church and accompanying community grounds.
The enterprise is the largest of its kind to be funded by the Ministry of Defence this year, and is on course to be completed this summer.
The development is expected to provide a boost for the relatives of the station's 2,300 servicemen and women's close relatives by offering them an improved range of services and activities.
Under the initiative, the existing St Aidan's Church will be expanded to create a community support complex.
The church will be adapted to include a permanent information base where newly-posted personnel can learn about the area and families can contact loved ones stationed overseas.
Satellite offices will also be created for a variety of visitor purposes – from midwife check-ups to financial appointments.
Other features will include a multi-faith worship area, a group meeting and training space, a tea bar and a padded play facility.
An outdoor play area, part-funded by the RAF Benevolent Fund, will be built in landscaped gardens beside the remodelled venue.
The revamp will also bring the station's community development team under one roof in a newly-created office space.
The project officially got under way when RAF Lossiemouth's station commander, Group Captain Paul Godfrey, cut the first piece of turf.
Group Captain Godfrey said he was "delighted" to play a role in instigating the works, which would "improve the support offered to our families".
The base's community development officer, Sarah Riley-Evans, added: "It is very exciting to see work beginning on this extension, which we have fought for over a long time.
"This will bring together a disparate community support team, cementing joint working practices and providing the community at RAF Lossiemouth with a support hub of which they can be proud."
The project will be managed by Carillion-Amey Ltd on behalf of the MoD, and building will be carried out by Morrison Construction.
Last week, the Ministry of Defence showed its support towards the families of service personnel stationed in Moray by pledging more than £100,000 towards the region's schools.