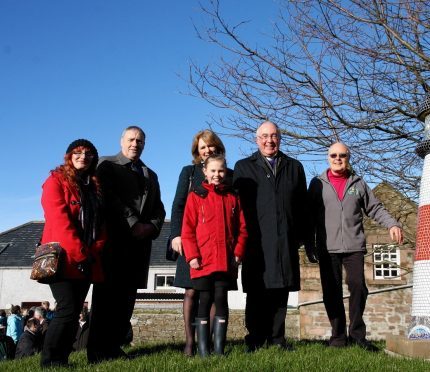 Blue skies and colourful blooms welcomed a special guest to a community garden in the Mearns yesterday.
The Rt Rev Dr Angus Morrison, moderator of the General Assembly of the Church of Scotland, visited Inverbervie's Voyage of Life garden.
Brighter Bervie, the team behind the garden, which featured on the Beechgrove Garden TV series last year, hailed the visit a success.
The volunteers dug out their gardening tools early this year to ensure everything looked at its best for the guest of honour.
The visit was planned early in the season so the moderator could visit parish minister Rev Dennis Rose before he retires in April.
Tom Campbell, chairman of Brighter Bervie, said: "The weather was fantastic. It was a lovely sunny day with no wind – we couldn't have asked for better at this time of year.
"It was a very relaxed and friendly event and we thoroughly enjoyed it.
"Despite it being so early in the season, we had some colour in the garden and everybody had a really nice time and a nice lunch.
"The moderator was just delighted to come along and see and hear about this community project and he says this is the way forward, with local people taking charge of things and making them happen."
Mr Campbell hopes visitors will be attracted to the garden – which features a stunning Lighthouse Sculpture – following its appearance on the popular BBC gardening programme.
He said: "Hopefully many viewers and readers will be attracted to visit Bervie and appreciate the garden as it matures and becomes fully established."
Regular working sessions will resume from March 1, at 1.30pm on Tuesdays, and 10am on Thursdays and Saturdays.
A collection raised £100 which will be donated to the victims of the Deeside flooding.