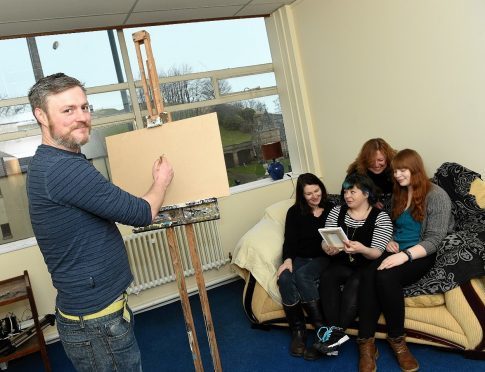 A group of Moray artists are transforming an abandoned office block into a mecca for the region's creative community.
Members of the newly formed MC3: Creative Spaces initiative are refurbishing a complex on Elgin High Street, which is soon to be a buzzing hive of artistic activity.
Seven rooms above the town's Royal Mail delivery office, which have lain empty for three years, are being converted into 18 studio spaces for people working in a variety of mediums.
The MC3 group took over the lease earlier this month, and have already had artists from as far as Aberdeen and Inverness express interest in renting spaces.
But project leader Charis Edward Wells says its ultimate goal is to boost Moray's arts trade.
She said: "There are artists here who work in paint, sculpture and photography but we are open to any creative enterprise.
"The massive problem with the creative culture in Moray is that it's very isolated, and artists are spread out all over.
"We will all chip in and help each other here, we want to bring everything together a community.
"But we don't want this space to be exclusive to artists – anyone can come in to work and learn."
The group has already begun staging classes while renovations are ongoing, and have encountered huge demand for weekly life drawing classes.
Members enthuse about the views the rooms offer, as the building is located at the foot of Elgin's Ladyhill Castle and Duke of Gordon monument.
The funds generated by renting rooms will go towards running the social enterprise.
Moray College art student Rachael Horsburgh added: "When you work alone you get caught up in your own world, but here others challenge you and make you better."
The premises had previously been used by the Moray Drug and Alcohol service before it moved to a new building in Elgin.
The group will stage an introductory culture cafe event on Thursday, where residents are invited to glimpse the work going on.
The event will run from 5pm to 7pm, and will feature a DJ as well as an artist creating a mural as it takes place.
The group has also launched an online appeal to help members purchase equipment to use in their work, visit www.indiegogo.com and search MC3.