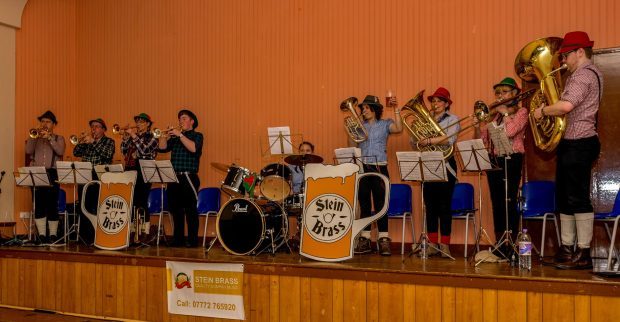 The liquid gold flowed freely in Moray at the weekend as local musicians brought the spirit of Germany's Oktoberfest to town.
Beer, singing and fun were the order of the day at Elgin's Bishopmill Hall on Saturday.
Real ale lovers streamed through the doors to sample a host of craft beers on offer.
The event was organised by the Friends of Moray Concert Brass Group, who teamed up with a local brewery to hold another Beerfest to raise funds for the band's summer tour around Europe.
Last year's inaugural event raised around £1,700 for the band's annual tour.
The second round of entertainment was hailed as an even greater success than the first.
More than 200 real ale aficionados were ushered into the hall and musicians played a range of traditional German polkas and waltzes to bring the spirit of the festival alive.
Glenn Munro, musical director for the brass band, which was formed in 1992 and has around 60 members, said it had been even better than last  year.
He added: "It was a really great day. The atmosphere was great and everybody was singing along to the music and having fun.
"I think everyone really enjoyed it.
"We had about 200 people through the doors which was more than last year.
"We are hoping to raise £2,000 altogether which will make the tour to Europe possible for the band."
Mr Munro said the 12-day tour would take the band across France, Switzerland, Germany and Holland.
The beerfest is now expected to become an annual fundraising event on the band's calendar.
Mr Munro added :"It is definitely going to become a regular event. It was a great success."