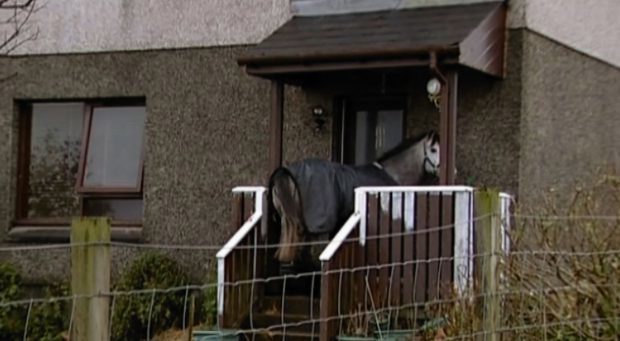 Western Isles Council acted unfairly and breached their own rules when they seized a horse which lived in a residential house for two year, a court heard yesterday.
The authority also went to a vet known to have concerns about the adult Connemara pony rather than seek an independent, unbiased, opinion about the animal being kept in allegedly cramped living conditions in Stephanie Ann Noble's front room at Broadbay View, Back, Lewis, Stornoway Sheriff Court was told.
The council effectively took the animal into care and legally removed it without Ms Noble' permission after the vet certified the makeshift stables were unsuitable.
The council now wants to obtain legal ownership and sell the horse.
The long-running case returned to court yesterday (Thurs) when advocate Stewart Buchanan – representing Ms Noble – maintained council was in the wrong by hiring a vet who was not involved in the case.
Mr Buchanan said people involved in a dispute with the council issues should be treated with fairness, consistency, and impartially. In addition council records and letters should be "accurate."
Giving evidence, council animal inspector Kenny Macleod agreed with the lawyer he knew in advance the vet was unhappy with the horse's accommodation.
Then, council also acted unfairly again by omitting to tell Ms Noble she had a right of appeal, alleged the lawyer.
The animal inspector stated she could have "gone to the courts to get the animal back" when quizzed about the issue.
Advocate Mark Mohammed for the council insisted there was no such right of appeal under the animal health act "so I don't know what Mr Buchanan is talking about."
Mr Buchanan told Mr Macleod the council "does not have the power to take the action you said you did on their behalf" to seize the horse.
Mr Macleod replied: "I also said I am an authorised inspector."
Mr Buchanan pointed out that – if the horse was suffering – Mr Macleod had legal powers to take it away without getting a vet's opinion.