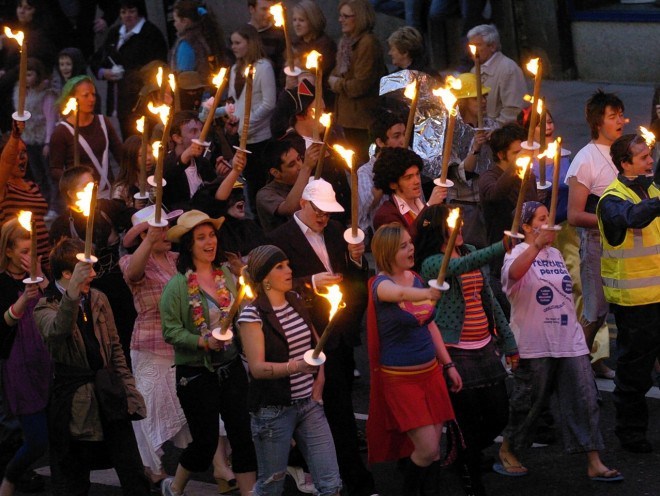 Aberdeen's historic Torcher Parade has been cancelled.
The event has been running in the Granite City for 126 years with students from Aberdeen University, Robert Gordon University and the North East Scotland College leading the renowned parade.
The parade raises cash for more than 37 local charities in the north-east but Aberdeen University Students' Association claims this year's event has seen more hurdles and barriers "than any previous year".
AUSA said with a heavy heart parade organiser Holly Bruce has decided it will not see its 127th year.
The union claimed changes to academic timetables at Aberdeen University had severely impacted on students taking part.
The parade, usually taking place in late April/early May was no longer feasible due to the summer exam diet, AUSA said.
AUSA said communication with some of its key stakeholders was lacking and, despite claims the union had been "fully pro-active"since 2015 regarding organising the parade.
The event was planned for this Saturday but the application for a licence was refused due to a lack of council staff to carry out traffic management.
Organisers had considered moving the event to Saturday, March 26 but this has not been deemed appropriate due to the lack of students.
Aberdeen City Council Licensing Committee convener Councillor Scott Carle: "Aberdeen City Council is saddened to learn that Aberdeen University Students Association (AUSA) has cancelled this year's Torcher Parade  – an event we have proudly supported for decades.
"AUSA was notified in November by our roads services that the proposed date of March 19th would fall within our winter maintenance programme.
"As a result we could not guarantee the availability of staff to support the planned traffic management required to deliver a safe parade.
"We strongly suggested that AUSA consider a later date, including the following Saturday (March 26), so we could provide traffic management support.
"All our attempts to support and facilitate the event were rebuffed by the student body.
"There are no winners here. The only losers are the people of Aberdeen who turn out year after year to enjoy this historic event."