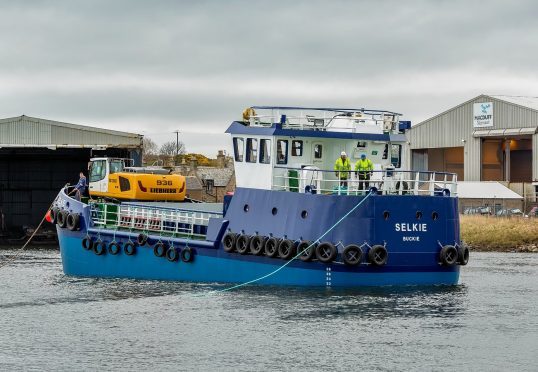 Moray Council's new £2.5million dredger has gone to sea for the first time and taken up a berth in the region's biggest harbour.
The 250-tonne vessel was edged gradually from Buckie's Macduff Shipyard construction shed to the bottom of the harbour slipway in a painstaking two-hour operation yesterday.
It was moved on 20 sets of remotely-controlled transporter wheels, then floated off at high tide and berthed at a quay within Buckie Harbour.
The 90-foot ship is Scotland's only council-owned dredger and was named MV Selkie by local schoolchildren, after the mythical Scottish creatures which resemble seals in the water, but assume human form on land.
The title will be officially conferred on the hulking machine at a naming ceremony in Buckie harbour at the start of next month.
Lord Lieutenant of Banffshire, Mrs Clare Russell, will name the ship in the traditional fashion by breaking a bottle of champagne over the vessel's bow.
The new dredger has been designed to access smaller ports and will undertake work for other councils around Scotland's coast.
Moray Council is responsible for the maintenance of six harbours, and local authority convener Allan Wright hailed the benefits the "major investment" would bring.
He said: "This is an investment in the future of our harbours and a sound business venture, as we anticipate [winning] dredging contracts from local authorities around Scotland.
"The new dredger joins a long list of major investments that Moray Council has been able to achieve in recent years.
"Despite our financial challenges, we will continue with strategic and affordable investments that benefit all of Moray."
The dredger is a replacement for the council's former vessel, the Shearwater, which was sold as scrap in 2012.
Councillors agreed to fund the replacement last February, and the contract was secured by Macduff Design and Shipbuilding after a competitive tender process.
The dredger's engines and electrics will all be tested at the quayside before she undergoes sea trials.
Once these are completed, MV Selkie will be formally handed over to the council on May 6.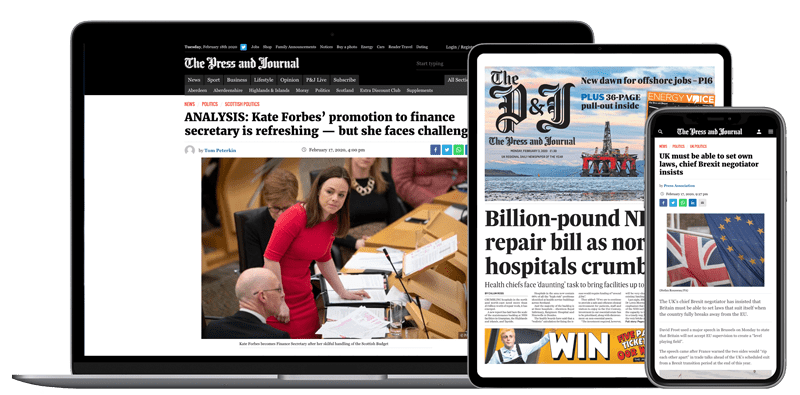 Help support quality local journalism … become a digital subscriber to The Press and Journal
For as little as £5.99 a month you can access all of our content, including Premium articles.
Subscribe