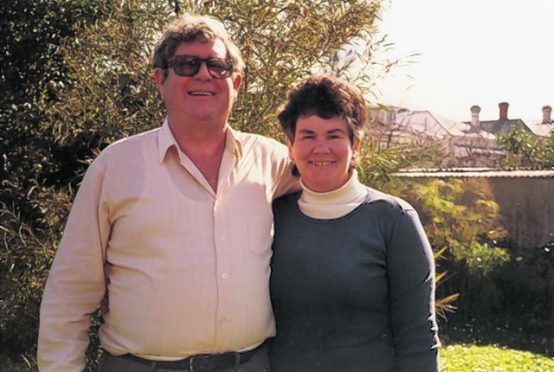 Ethel Greig was born in Turriff Cottage Hospital on October 2, 1939. Although she now lives in Auckland, New Zealand with her husband Selwyn, the close-knit streets of her home village New Byth remain close to her heart. Here, to kick off our new memoirs series in YL, Ethel recalls her childhood in Aberdeenshire and ventures abroad
I remember New Byth as a typical north-east village. It was a time before washing machines and Hoovers, and news of the war came through the radio.
My family moved to New Byth from Aberdeen in 1938. I can recall two streets in New Byth, Bridge Street and Main Street.
There was a postman who delivered on a bicycle and a milkman who arrived with two Clydesdale horses and a milk cart.
After the war, we were treated to a visit from an ice-cream van on a Sunday. We lived in Bridge Terrace in a council house that's still there.
No one worked on a Sunday back then. I went to Sunday school in our Sunday best. The church bell rang each Sunday morning, although faith in religion was dwindling at this time.
By the 50s, as motor vehicles became frequently used, the streets were asphalted and installed with lights.
There was a hotel with a pub for the men and upstairs a hall for wedding receptions and meetings. The village community hall held visiting concert parties and plays from local drama groups. There was also a cinema, or pictures, and the 'picture man' came in the middle of the week and we would see things like Laurel and Hardy and Hoppalong Cassidy along with other favourite Westerns and cartoons.
I also remember the red sandstone bridge which ran over the Byth burn and there were lanes called 'backs' around the village which led to the fields where oats, potatoes and turnips were grown. There was no compost heap and mulching back then – dung was simply scattered on the crops.
One or two villagers had hen lots and sold free range eggs and many would also grow cabbage, kale, carrots, potatoes and radish. Others hand milked cows. One widow had a fabulous garden and bee hive giving lovely honey. Home grown produce was sold to fellow villagers.
Harvest in the autumn was a busy time and by the 1950s there were combine harvesters, tractors and potato diggers, but turnips were hashed by hand to feed pigs and cattle.
In the village there were many species of birds to be spotted. I would go to bed hearing the local barn owl and would be awoken by the nearby roosters. Like today, robin red breasts were spotted in winter and scarecrows guarded the crops.
In the spring, we collected jars of tadpoles from the stream which developed into frogs. We picked fresh daffodils and lilies for our teacher.
The winter brought lots of snow and we had to wrap up well. The joiner made coffins and sledges with iron keels and we had great fun on our sledge, speeding down the hill. We also made snowmen. One year, the snow was really heavy. Villages were isolated, roads were blocked and there was no electricity for three weeks.
The schools in New Byth, like the bridge, were made of red sandstone. New Byth School catered for both primary and junior secondary classes.
I started my education in 1944. I was part of the Easter intake and the first two years involved 'infant classes' with Miss Kemp.
I was fascinated by the coloured chalk and slates we used in the classroom and I loved the musical instruments – we had triangles, tambourines, drums and a gramophone. We listened to nursery rhymes.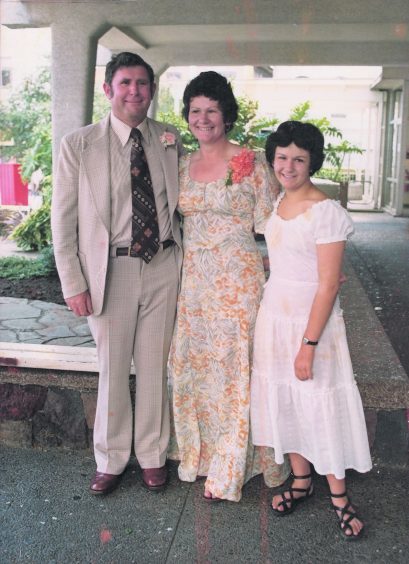 The music teacher, Mrs Smith, would arrive once a week to teach us how to read music. We would also sing Scottish folk songs together while she played the piano. When I got to secondary school, I had art classes with Mrs Green where one morning a week we would create coloured patterns with crayons and water paint.
Some classes had a strict boy and girl divide. The girls were taught algebra while the boys learnt geometry. In gym, the sexes were split up, and our teacher, Mr Wilson, was a former army trainer. We had activities like deportment marching, climbing the rails, hand jumping over the wooden horse and general keep-fit exercises.
We had to strip off into navy blue knickers – there were no shorts back then, just white blouses. Sports day was held once a year on the big lawn of the primary school. There was long jump, high jump, an egg and spoon race, a sack race and long distance races.
One afternoon, a red-haired woman called Miss Duncan came to visit us in secondary school to teach us about sex. Girls and boys were again split up, naturally. It made no sense whatsoever to me and she didn't mention the word love once. It was all about biology.
The district nurse would come along twice a year to check throats, ears and hair for nits. The dentist followed suit once a year.
School dinners were served every day and we got a third of a pint of milk at playtime. I thought my primary school teacher, Mrs Cruickshank, was a very good teacher and I gave her a Christmas card each year. She would use an old leather strap, a 'tawse', on our hand for any misbehaviour, but I was never on the receiving end.
I have always maintained that I had a good basic education – the three "R's" – reading, writing and 'rithmatic!
To get into Turriff Academy we had to pass the horrible 11+ exam, which I missed a pass with by two points. I spent three years at New Byth Secondary and got my School Certificate.
My mother's name was Jessie Rattray and she worked as a maid. She married my dad, Hugh Greig, when she was 16.
Dad left school aged 14 and worked as a farmhand. He and my mum moved to Aberdeen and he joined the Gordon Highlanders Territorials at Bridge of Don. There he learned to drive a truck and worked with Donald Stewart – home builder of bungalows.
The Territorials were first to go to war in 1939. I was a babe in arms and the fourth child. Mum was left pregnant with Mabel, who is 11 months and one week younger than me. Dad was just 27 then.
He lost his left leg in France during the first six months of combat. He was also a prisoner of war for four years where he met a Glaswegian who became a good friend and they shared a sense of humour.
The meals were mostly made of potatoes. The prisoners were put to work on a production line in a nearby factory, as all the female hands had been taken to death camps. He often chatted about Hitler's propaganda. Dad was a war hero. He was believed lost for one to three years.
When I was four, I recall him coming home in a dark green military van with peg leg and crutches. We were told as kids: "Your dad has a broken leg".
In Aberdeen my dad did a home study book-keeping course and worked as a clerk with a solicitor on Crown Street for a few years when he was in his 40s. During the 1970s and 1980s, he dealt in property at the time of boom in North Sea oil.
My dad was a stalwart, astute, a hard-working man in spite of his war-time disability. He was admired in the New Byth community and was a very sociable person. He never looked back and got on with life. He had a good sense of humour too.
Dad undertook a rehabilitation course in Peterhead after the war and he became a shoemaker, and a very talented one, too. He was very versatile in his work and he set up a shop on his father's land in Bridge Street, New Byth.
It was at this point my mother forayed into shoe selling with the products my dad made; robust boots, shoes and wellies along with manufactured pipe tobacco, cigarettes and sundries. My dad also used to repair bags. He had a heavy sewing machine for this. He then went on to cut hair, mend watches and clocks before going into buying and selling used cars to sell at auction in Aberdeen.
In his later years, in Aberdeen, he served in the Salvation Army, working in the Opportunity Shop in Castlegate and collecting donations in the pubs. He sought faith after being diagnosed with terminal cancer.
He motored around Britain and Ireland a bit too, kissing the Blarney Stone and staying in Youth Hostels. He had an eye for the ladies. He gained high rank in the Freemasons in Old Aberdeen. He was a keen bird watcher and drove out to such places as Ythanbank, Newburgh, Skene Loch and Nigg Bay. He longed to witness an Osprey in the Highlands. He died aged 74.
We moved to Aberdeen from New Byth in 1954. It was my dad's decision as he wanted to give us all a chance in life by way of higher education – something my parents did not have the opportunity of.
I have two sisters, Mabel and Dorothy, and two brothers, Billy and Ian.
In Aberdeen, my brothers married and had families – Ian is still in Inverurie, a retired production manager with two grown-up girls. Billy, my older brother, had four children – who live in Scotland – he was a doctor but died in his 40s.
Mabel immigrated to South Africa to join her fiancé where she had three children. Dorothy became a shorthand typist and moved to the then Southern Rhodesia where she married and had two children. Both my sisters live in Australia now. Mabel gained a PhD from West Sydney University as a mature student.
My parents divorced in the late 1960s. My mum went on to have a happy second marriage with Val Foster, who she spent 25 years with in rural New Zealand before returning to Scotland after he died of cancer in 1991.
I left Scotland in 1961 for Switzerland having met Paul, my first husband, an exchange student from Switzerland who became an engineer. We married in Switzerland in 1962. I lived there for four-and-a-half years and we had three children there, Yvonne, Monica, and Danny. My fourth child, Sonia, was born in Australia before we came to New Zealand. When I look back on my Swiss experience, I realise how lucky I was. I know of the country's beauty and I experienced both rural life and city life.
We sailed to New Zealand in 1966. We divorced in Auckland in 1977. I married my second husband, Selwyn, a New Zealander, the following year. He was a police officer for all his career.
Having not visited my homeland or hometown for more than 20 years, I can only envisage what it is like now. From here I picture new suburbs and much on-going change.
Auckland is twin-harboured and has many beaches, modern facilities and offers a high standard of living. I have seen much change in all aspects of life here – progress, modernisation and development. Auckland has a big harbour bridge, ferries and a Sky Tower, just like in Sydney.
I came to appreciate different cultures when I studied social anthropology, history and German at Auckland University as a mature student.
At one time I felt that I had been plucked from my Scottish culture – I am often asked where I am from and reply: "Aberdeen, Scotland," with pride. I am told I have a beautiful accent.
I guess I am a real Aberdonian at heart, and a proud Scot.
In my time, Aberdeen was known as the Silver City with the Golden Sands. I remember a junk market at Castlegate every Friday and a fruit and vegetable market on the Green.
Exploring the city was a whole new adventure for me as a teenager. I went to Duthie Park with my sisters and although the shops were enticing, we did not have money to spend in them.
We used to go to the funfair near the beach and dancing at the Beach Ballroom where we met boyfriends who took us to the cinema.
I learnt to swim in the public baths and I remember an ice rink in Spring Garden and tennis courts and a maze in Hazlehead Park. I wonder if it is still there?
So I have shared my memories and I have eight grandchildren living 'down under'. Selwyn and I are armchair travellers today. I will have The Northern Lights at my cremation service. Bon Accord.
Why not share your memories with YL readers? Contact Laura on 01224 343382 or laura.redpath@ajl.co.uk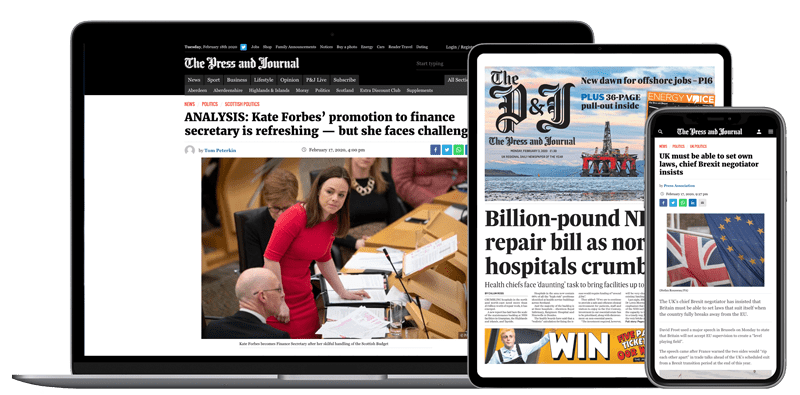 Help support quality local journalism … become a digital subscriber to The Press and Journal
For as little as £5.99 a month you can access all of our content, including Premium articles.
Subscribe