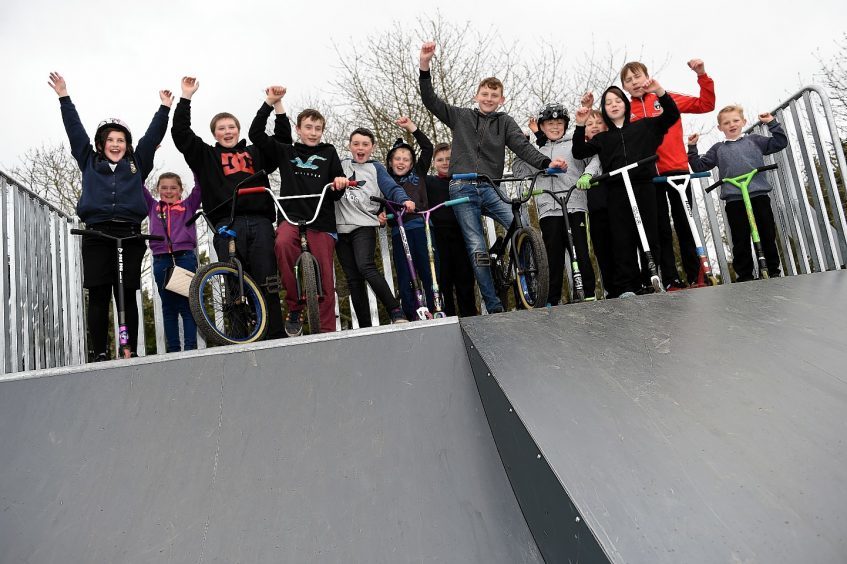 An £80,000 project to rejuvenate a Moray skate park has surged forward after receiving a huge cash boost from local benevolent funds.
Youngsters who regularly attend the Kerbs venue in Keith's Cuthil Park were overjoyed yesterday when they took to the new ramps which have been funded by the Gordon and Ena Baxter Foundation and the Hill of Towie windfarm community fund.
The site, which caters for rollerbladers, BMX bikers and skateboarders has been subject to improvement efforts for around two years.
Adrenaline sports enthusiasts who use the park have managed to raise £7,000 towards its overhaul during that time, by staging a plethora of cash-generating initiatives in Keith.
Now they have managed to secure a pair of £10,000 donations from both charitable foundations, bringing their tally to £27,000.
But the group fundraising for the park's future say they still face a steep curve to complete the ambitious renovation project.
Kerbs committee member, Kerry Maver, said: "The need for replacement equipment really became apparent two years ago.
"The old stuff was rotting through, and we realised we needed new ramps pretty badly.
"To raise money, the children carried out a skate-a-thon, meaning they remained on the ramps for four hours, packed bags at supermarkets and held raffles and discos.
"Now, with these grants, we have managed to replace the old pipes, but we still need about £50,000 to get the park how we want it."
Committee members aim to raise enough money to buy more replacement ramps, along with half-pipes and quarter-pipes.
The children who polish their manoeuvres at the park have had a hand in designing its layout when it is fully redeveloped.
Mrs Maver added: "The park is usually quite busy with children and they are all really excited about this."
The Gordon and Ena Baxter Foundation was set up to manage the personal legacies left by the pair, who started Moray-based Baxters Food Group.
Foundation manager Kay Jackson said: "The group of parents and young people at Kerbs are extremely passionate about and committed to the skate park, which was certainly demonstrated in their tremendous fundraising efforts.
"We look forward to seeing many local youngsters benefit from the new facilities."