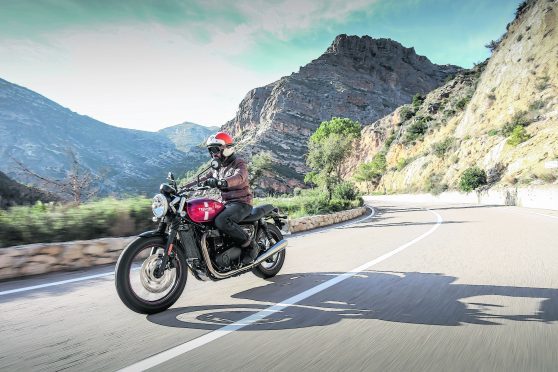 Motorcycles have everything these days. Endless electronic aids, stupendous horse power figures, plush comfort. We can even go online while we're riding our bikes. But, sometimes, less is more.
Basic doesn't have to mean 'rudimentary' or 'underdeveloped'. It can also be 'fundamental' and 'quintessential'. And that's exactly what Triumph's new Street Twin is all about.
Triumph have grabbed the bull by the horns this year with a renewed Speed Triple and the stunning Thruxton and Thruxton R. The firm has really succeeded in combining classic 'cool' styling with modern performance. The Bonneville remains the ultimate retro Triumph, but the British bikers have now launched a fresh option: the Street Twin.
There's no need to rack up countless miles in the saddle to realise just how impressive this retro-naked is. Triumph are renowned for being a 'character brand' and with a sharp £7,350 price tag and stunning looks, the Street Twin could be just the ticket for novices and more experienced riders alike.
First up, comfort. The saddle has firmer padding than the original Bonneville and it is just 750mm high so shorter riders shouldn't have a problem placing both feet firmly on the ground. The riding position is natural, with an effortless reach to the handlebars and there is ample legroom.
Suspension wise, the front Kayaba forks are non-adjustable and the Kayaba rear twin shocks are only adjustable for pre-load. The set up is relatively soft and ideal for less than prefect road surfaces and general pottering about. A dry weight of 198kg hardly makes it a sports bike but it's bang-on for the class.
It manages to distinguish itself from the other middleweights with its super-smooth 900cc, 270-degree parallel twin engine. On paper it pumps out 55bhp and 59lb/ft of torque; on the road, the acceleration is delightful.
Compared to the older Bonneville, the Street Twin has an extra 22bhp between 2,750rpm and 4,750rpm. It also has 18% more torque just where you need it at 3,230rpm. The throttle response from the Ride-By-Wire is exceptionally smooth and easy to measure, which, again, is perfect for beginners.
The vibrations are negligible and certainly more characterful than annoying. Even the dashboard has a simplicity that doesn't demand too much attention or distract your eyes from the road or your heart from the ride.
At the base of the large analogue speedometer there's a small digital screen with additional information like the fuel gauge, trip meters, range, service indicator and a gear indicator. More positives are hidden away in the fuel consumption, which is claimed to be 76mpg. We managed to achieve a still impressive 62mpg.
With ABS included, the Street Twin is clearly a very modern motorcycle, despite its old school styling. It's not just about fake carburettors; Triumph has added even more technology with an off-button for the traction control and a USB charger underneath the saddle.
Modern classics aren't about fiddling with chokes, kick-starts or flicking the reserve fuel tap on in a desperate attempt to make it to the next garage. These days you get refined electronic rider aids that you'll hardly ever notice until you need them. So the Street Twin also has a slipper clutch that is lighter than the previous Bonnie's and a soft, precise, five speed gearbox that fits the 'keep it simple, stupid' philosophy perfectly.
You'd never guess it from the flawless paintwork and the saddle's tidy stitching, or from the chrome fuel cap to the cleverly hidden catalytic converter, but the Street Twin is produced in Thailand. It's a credit to the collaboration.
And it costs under seven and a half grand, so you might even have enough cash to splash out on a few extras. There are more than 150 accessories available and to help you out, Triumph has made choosing from the extensive range as simple as possible by offering Inspiration Kits; the stripped back Scrambler, the aggressive city Brat Tracker and the more casual Urban version.
The Street Twin isn't really for hooligans or speed freaks, but it is nevertheless an excellent bike, especially for beginners. And it's just begging to be customised by experienced riders who know exactly what they want.
THE FACTS
Model: Triumph Street Twin
Price: From £7,350
Engine: 900cc parallel twin producing 55bhp @ 5,900rpm and 59lb/ft @ 3,230rpm
Transmission: Five-speed sequential manual, chain drive
Dry weight: 198kg
Seat height: 750mm
Fuel capacity: 12 litres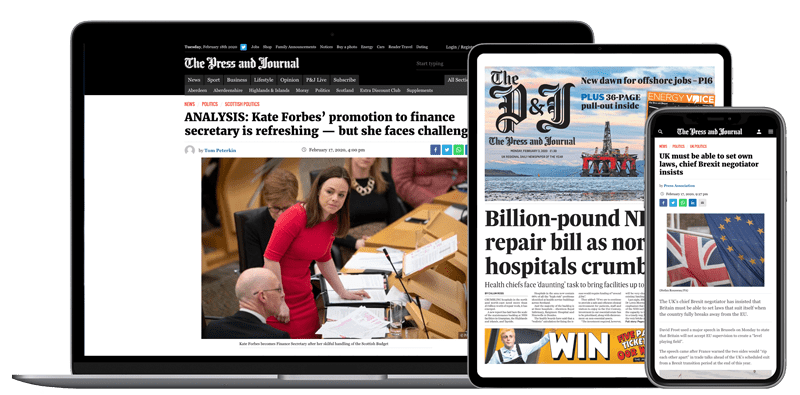 Help support quality local journalism … become a digital subscriber to The Press and Journal
For as little as £5.99 a month you can access all of our content, including Premium articles.
Subscribe