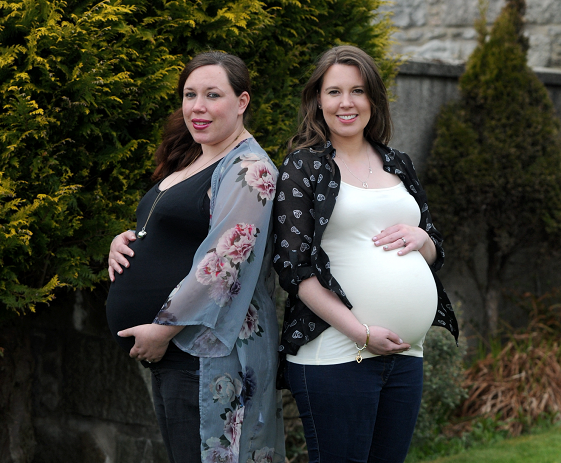 A pair of Aberdeen sisters are set for delight after finding out that their expected new-borns are due to share the same birthday.
Sisters Hannah Goonan and Amy Miller are both expected to give birth on July 1.
Mrs. Goonan said: "It was a bit of a shock but it's very exciting.
"My poor mum is going to be very busy.
"I announced it first. Amy kept it quiet until Christmas day.
"She knows that she's having a boy."
Hannah, who is from Bridge of Don and is a mother already, does not know the sex of her next child and has shown a fondness of secrets after throwing sister Amy a surprise baby shower yesterday.
Friends and family of the pair gathered at the Mains of Scotstown Inn in Bridge of Don to celebrate the future additions.
The 28-year-old added: "For my first born, Amy organised a baby shower for me, so I did this one for her.
"This is her first born, I think she's a bit nervous.
"But as time is getting closer I think the nerves are going and the excitement of the pregnancy is taking over."
Amy is also originally from Aberdeen but now lives in Inchture, just outside Dundee with her husband Allan, and was delighted with the party.
Mrs. Miller said: "It was a big surprise – but not as much as finding out we were both due on the same day.
The 33-year-old added: "This is our first wee one.
"I'm excited, it's an experience you don't take for granted.
"I'm just so happy I get to experience this and have a baby."