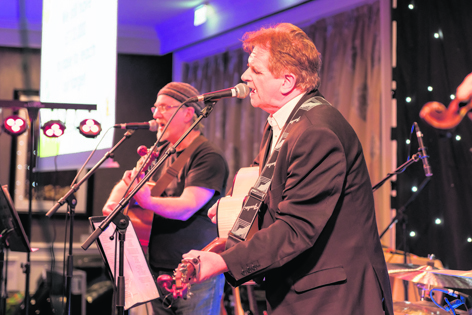 A Moray fundraising group is counting on one of Scotland's best-loved musicians to help raise thousands of pounds for charity.
The Forres Rotary Club has enlisted the services of former Runrig frontman Donnie Munro in its efforts to raise money for north-east children's and cancer charities.
The club will stage a dinner next month, during which Mr Munro will perform and answer questions from fans in the audience.
Event organiser, Carlo Miele, said similar drives in the past have amassed about £15,000 for charity, and was optimistic that Mr Munro's star power could help the club match that total this time.
Funds raised will go to the ARCHIE Foundation, which helps look after sick children across the north of Scotland and the Highlands branch of the Maggie's Cancer Support organisation.
Mr Miele said: "Mr Munro is an ambassador for both Maggie's and the ARCHIE Foundation in the Highlands, so I got in touch to see if he'd be interested in helping with our fundraiser.
"He will play for an hour, then answer whatever questions people have about his time in the music business."
The Scottish singing legend will take part in a brace of events in Forres in June.
He has also been named as the honorary chieftain of the town's annual European Pipe Bands Championship competition, Piping at Forres.
Mr Miele added: "After Mr Munro agreed to take part in our event I asked him about getting involved with Piping at Forres too, as it's the very next day.
"He ended up being offered and accepting the role of honorary chieftain, so this is just win-win for the area."
The charity evening will take place in Elgin's Mansfield Hotel on Friday, June 24.
Tickets, priced at £100, will entitle the holder to a three-course meal as well as champagne and wine.
The night will conclude with a charity auction.
Moray businesses are being encouraged to book tables to help support the Rotary Club's chosen causes.
Tickets and further information are available by contacting event@forresrotary.co.uk
Piping at Forres will be held in the town's Grant Park on Saturday, June 25.
Mr Munro said he was "deeply honoured" when organisers asked him to act as figurehead for this year's bash.