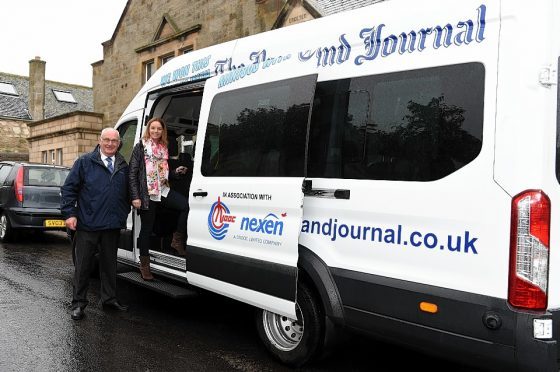 It was the competition that had hundreds of groups across the north and north-east talking.
And today, we can reveal the Press and Journal has once again teamed up with Nexen to give another lucky community group the chance to win a minibus.
For the second year running, a 17-seater bus is up for grabs.
Last year, more than 200 groups – ranging from football teams, Brownies, care homes, schools and drama clubs – entered the competition, simply by collecting tokens in the P&J.
It was eventually won Hopeman Community Group, who – thanks to the support of the village – managed to collect more than 4,000 tokens to secure the bus for the scouts, young football teams and pensioners going on day trips.
Tokens for this year's competition will appear in the paper from June 13 until August 27, and groups must collect 50. However, they can enter as many times as they like to better their chances of winning – as long as each entry has 50 tokens attached.
Ray Riddoch, managing director UK and SVP Europe at Nexen, said: "We are delighted to be sponsoring this great competition for a second year running following the huge success of last year, which was so well supported and attracted hundreds of entries.
"Last year's competition was nail biting to the very end and was won by a deserving community group who do great work for the people they support.
"Nexen believes local groups are vital part of the fabric of our communities and enrich people's lives. Transport can be a real challenge for many groups, especially those with members in rural and isolated areas – therefore the opportunity to own your bus will have long lasting benefits for the winners.
"Nexen would like to wish every group who enters the very best of luck going forward."
Aberdeen Journal's editor-in-chief, Damian Bates, said: "The P&J remains, at heart, a great community newspaper that champions the north of Scotland and its communities. We know how successful and popular our minibus competition is and that's why it's so great to be offering another bus for one lucky group to win.
"They are vital for so many people to get out and about and we know they remain key tools for groups for years to come. You've got to be in to win it."
Carmen Gillies, from the Hopeman Community Association, last night encouraged groups to make sure they were in with a chance of winning the vehicle this time round.
She said: "Groups put so much effort into fundraising to buy something like this, and it would take years for them to get £37,000.
"This really is a phenomenal offer."
To register your group for the chance to win this amazing prize, visit www.pressandjournal.co.uk/minibus or complete a registration form from the paper, from May 30.