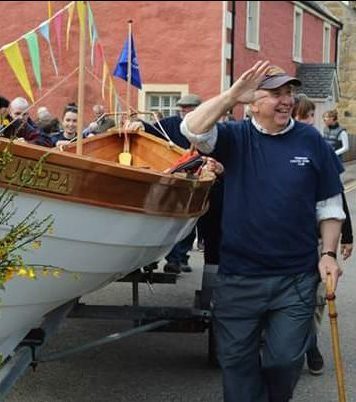 A popular sailor has been killed in a freak boating accident on the Moray Firth.
Frank Whyte was cruising off Findhorn Bay when a "violent" blast of wind overturned his yacht on Saturday afternoon.
The 69-year-old was taken ashore by lifeboat crews and treated by paramedics, but was declared dead at the scene.
Yesterday, friends spoke of the boat-builder's passion for life on the bay, and said he "lived for Findhorn".
Mr Whyte had been sailing his 20ft Drascombe Lugger when weather conditions suddenly grew fierce and capsized it.
Six other boats – which were taking part in a race across the bay – were also upended, but none of their occupants came to serious harm.
Emergency services were called to the beauty spot at 2pm, including lifeboats from Invergordon and Kessock.
A lifelong friend of Mr Whyte's was among the crew of the Moray Inshore Rescue Organisation craft that attended the scene.
Deputy coxswain, Donald Watson, entered a state of disbelief realised who the occupant of the tragic craft was.
The 67-year-old, who attended Findhorn Primary School alongside Mr Whyte, outlined the horrendous conditions that swept the body of water.
Mr Watson said: "There was a massive squall, and that's what took him.
"It came on so violently in the blink of an eye, there was nothing he could have done.
"It was like a black curtain fell over the Moray Firth, with heavy rain and screaming wind.
"We were sent out to retrieve the boat, and when I discovered who owned it I was shocked."
Mr Watson said yachting was Mr Whyte's primary passion.
He added: "He was a jovial character, who liked to sit down and have a good yarn.
"He had a lot of knowledge that he was happy to share, especially if he was sitting in the stern of his boat watching the world pass."
A neighbour of Mr Whyte's on Forres's Caroline Street described him as a caring family man, and said his loved ones would be "devastated".
Moray MSP Richard Lochhead extended his sympathies to those who knew him.
He said: "Given Mr Whyte's strong connection with Findhorn and the bay, his loss will be felt by many in the village and throughout the yachting community.
"Following this terrible tragedy, everyone's thoughts are with Mr Whyte's loved ones and friends."
Mr Whyte's father, Frank senior, worked as a boatbuilder for the Moray Firth Salmon Fishing Company and the family was well known across northern ports.
Mr Whyte was a joiner by trade but continued the family's nautical connections in his spare time.
He was a former sailing school instructor, and oversaw the creation of the Findhorn Coastal Rowing Club's St Ayle's skiff last year.
Lifeboats from Invergordon and Kessock had been attending an open day at Nairn when Saturday's events unfolded, and a coastguard helicopter was also called to Findhorn.
A spokesman for the Invergordon craft said that gusts as powerful as 56 knots were recorded during the ferocious burst, which also brought hail, thunder and lightning.
He added: "A fierce squall appeared in almost an instant, where weather conditions could only be described as unbelievable."
A police spokeswoman added: "There are no apparent suspicious circumstances. As with all sudden deaths, a report will be submitted to the procurator fiscal."
Within hours of the accident, a Scottish flag beside Findhorn Village Centre was lowered to half mast in tribute to Mr Whyte.