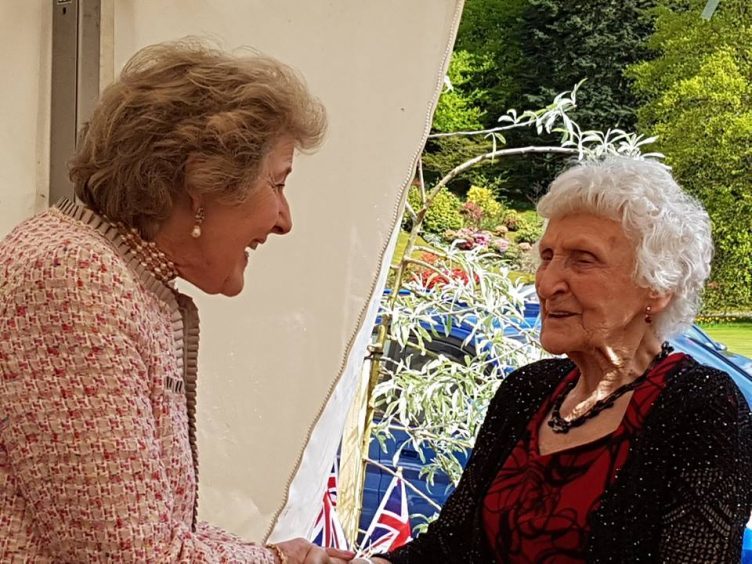 More than 100 of the north-east's longest serving residents came together for a royal-themed bash at the weekend.
Men and women aged 90 and above descended on a Speyside estate to raise a glass to the Queen, who reached the landmark age last month.
The Lord Lieutenant of Banffshire, Lady Clare Russell, staged the tea party in a marquee at Ballindalloch Castle on Saturday afternoon.
Mrs Russell said she was moved by the gathering of so many well-loved locals from across the county.
She said that a particular highlight was when her five-year-old granddaughter, Rose McPherson Grant, joined forces with a 105-year-old woman from Buckie to cut the celebratory birthday cake – which had been iced with a message to Her Majesty.
Mrs Russell added: "It was an amazing, wonderful afternoon.
"We had more than 200 guests, and 120 of those were aged 90 or over.
"When I went into the marquee and saw everyone, I actually felt quite moved.
"They all thoroughly enjoyed themselves, it was a historic occasion and certainly a one-off."
Although the day got off to a gloomy start, the wet weather lifted as the event got under way.
At 2.30pm, the tent began to fill with nonagenarians who had spruced themselves up in their finest outfits for the regal party.
They were assisted into their chairs by the Buckie Boys Brigade group, who volunteered their time to ensure the get-together went smoothly.
After enjoying some cake and refreshments, attendees were entertained by the Kinloss Military Wives Choir and local musicians.
The choir encouraged a singalong as they performed a range of wartime ditties that evoked some poignant memories among the audience.
Youngsters from the Anne McArthur Scottish country dancing school and Portgordon Primary School also treated onlookers to a showcase of various energetic jigs.
At one point, Mrs Russell read out an appreciative message from The Queen, wishing those in attendance "a lovely afternoon".
The tea party concluded with a rousing rendition of "Happy Birthday" in honour of the long-serving monarch.
Last night, an elated Mrs Russell said she had spent the remainder of the weekend penning personal notes expressing her gratitude to all of the residents who had attended.