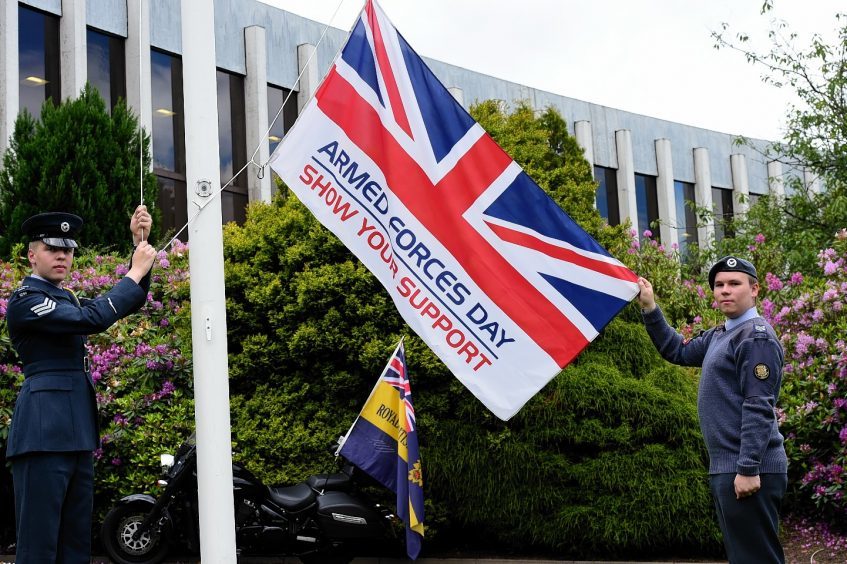 Servicemen and women of the past, present and future were honoured at a flag-raising ceremony in Aberdeen yesterday.
In the run up to Saturday's Armed Forces Day, Aberdeenshire Council paid tribute to those who protect their nation's interests overseas and closer to home.
Around 100 people, including those from the air force, navy and army, as well as local councillors and dignitaries attended the event at council headquarters.
The armed forces commemorative flag was then raised outside Woodhill House by Cadet Sgt Michal Tosik, Cadet Sgt Ben Bartlett and Sgt Alistair Cunningham.
Provost of Aberdeenshire Hamish Vernal said it was a "great honour" to be able to show support to the region's armed forces community.
He said: "It is a ceremony that we have the Monday before the big parade at which we fly the flag for the armed forces.
"I think everyone here was appreciative of the opportunity to hear someone saying, 'we know you are here, we recognise what you have done in the past, and we thank you for it'."
"It is a simple ceremony but very welcome."
During his speech, Mr Vernal talked about the council's commitment to providing support for servicemen and women and highlighted Banchory's newly-launched Men's Shed, which meets at the town's British Legion.
Men's Sheds are a non-profit innovation from Australia which create spaces for lonely men to relax, congregate, and do projects, with the ultimate goal of improving their health.
Lord Lieutenant of Kincardineshire Carol Kinghorn, Vice Lord Lieutenant Joanna Aberdeen, and Lieutenant Colonel Phil Fox, commanding officer of the Aberdeen Universities Officer Training Corps (AUOTC), were also among the speakers.
On Saturday, there will be a big parade of serving military men and women, veteran associations, and cadet and youth organisations which will be accompanied by local pipe bands.
The parade leaves Alford Place at 11am before making its way down Union Street, finishing at the Castlegate.
After the parade, families are invited to see the Armed Forces' Village at Bridge of Don Barracks, in Bridge of Don, between 12-5pm.
There will be emergency services vehicles, items from the Gordon Highlanders Museum, as well as Grampian Transport Museum's Saracen tank and armoured car on show.
There will also be camouflage face painting and a climbing wall.