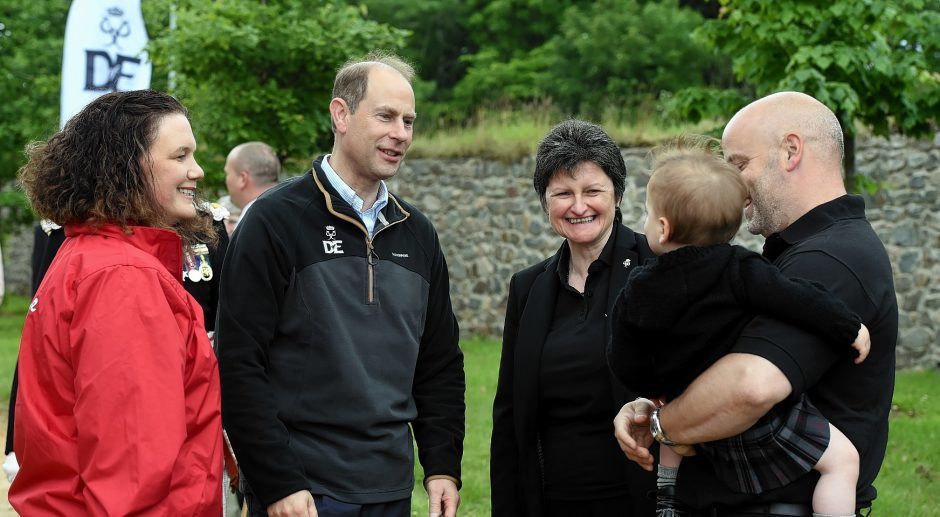 Prince Edward visited Moray to celebrate the 60th anniversary of an adventure scheme that was born in the region and named in honour of his father.
The Earl of Wessex opened a monument to the Duke of Edinburgh (DoE) awards programme at Fochabers yesterday.
The initiative is the brainchild of former Gordonstoun principal Kurt Hahn, and was pioneered at Elgin Academy.
The display, which is located on a stretch of the Speyside Way near the village's war memorial statue, features six stones each representing a decade of its existence.
The Prince arrived via helicopter at a nearby cricket pitch shortly before 4pm, and was welcomed by 16-year-old Fochabers bagpiper Blair Duncan as he approached the attraction.
The Earl of Wessex beamed while he exchanged pleasantries with dozens of residents, and joked with onlookers as he shovelled mounds of earth onto a freshly planted monkey tree that will form the centrepiece of the £5,000 display.
Unwilling to hog the limelight, the Earl insisted that local youngsters help him bed the plant.
The royal said yesterday's experience brought back memories of when he completed the awards scheme himself, as a pupil at Gordonstoun.
He added: "It's really exciting being a part of this."
Youngsters completing their DoE award in Moray created the exhibit after being tasked with finding a way to mark the scheme's 60th anniversary.
Buckie High School pupil, Matthew Dutoy, said: "We wanted to create a meeting place for participants coming off the Speyside Way, and it needed to be a physical landmark that could remain in place for years."
The 16-year-old added: "We felt we should commemorate the significance of it all starting here, as the Moray Badge back then."
Jonnie Usher, 76, won the prize when it was known as the Moray Badge.
Attending yesterday's gathering, he said: "When I did this as a pupil at Gordonstoun I never imagined it would mushroom the way it has."
A plaque affixed to one of the stones states that more than two million children have participated in the scheme, across 140 nations.
Before departing, the Prince requested that the Fochabers Fiddlers group offer a tune – and the musicians responded by playing some traditional pieces from Shetland as a way of bidding him farewell.