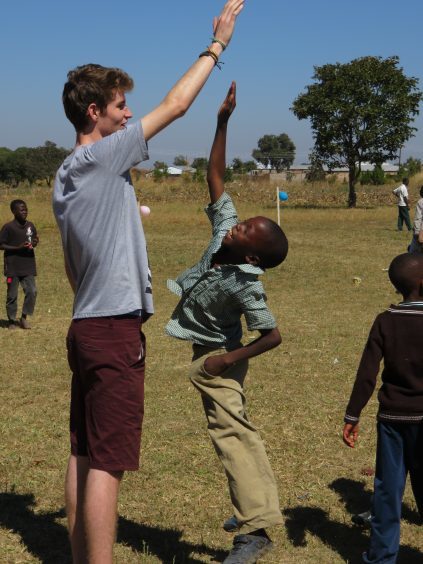 A Moray teenager is travelling thousands of miles to south-east Asia to spend three months teaching disadvantaged youngsters.
Ben Moore, from Elgin, will venture to Cambodia next month as part of a new initiative specifically aimed at educating some of the country's neediest children.
The 18-year-old has been accepted into the government-backed International Citizen Service scheme, which offers Scots aged between 18 and 25 the chance to develop their life skills while experiencing different cultures.
Each placement is free of charge, and lasts for three months.
While in Cambodia, Mr Moore will take part in a venture which is designed to promote access to good education for children in rural parts of the nation.
He will help to deliver English lessons, and will develop resources which can be used throughout Cambodian schools.
The Asian nation is blighted by widespread poverty among people of all ages.
The former Elgin High School pupil, who finished his secondary education this spring, expects that witnessing the problems faced by children there will offer him some perspective.
He added: "My education has been golden in comparison to the people I will be working with in Cambodia, and, if I can make a small difference to a few people, I would be more than happy.
"ICS will give me the opportunity to live in and among new places and people, and will inevitably help me grow as a person."
The teenager wants to become a primary school teacher, and envisages that the work he completes abroad will stand him in good stead for a career in the profession.
He said: "I plan on studying primary education, so I'm sure my ICS placement will be great experience and I am looking forward to working in the school there.
"I am hoping to improve my communication skills.
"One of the most interesting and thoughtprovoking characteristics of this trip is that very few people will be able to speak both English and Khmer, which is what they refer to Cambodian as.
"We will have to think of new ways to engage with the locals."
Mr Moore will be partnered with a Cambodian counterpart during the placement, who will help him to learn the native language.
The teenager stated he had been "blown away" by the children he met during a recent school trip to Zambia,
He also said he was astounded by their "determination to learn" and "their appreciation for education".
The Elgin resident will be one of 750 Scottish youngsters who have travelled abroad as part of the ICS scheme.
Programme organisers are confident it offers young people the opportunity to gain skills "which employers and universities love".
The organisation's director, Felicity Kendall, said youngsters could broaden their horizons by participating in the scheme.
She said: "Young people leaving school or college can find themselves under a lot of pressure to figure out what's next.
"Volunteering abroad can be a great opportunity to experience another culture, and gain skills that will set people up for future challenges."