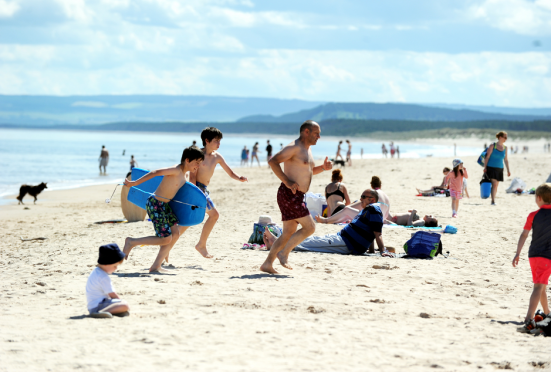 Blair Dingwall
A tiny village in the Scottish Highlands was the hottest place in the UK for the second day in a row yesterday as the country basked in scorching weather.
Some parts of the north could have been mistaken for the Mediterranean, with many a full 10C hotter than the average temperatures for the second half of August.
Once again, as on Tuesday, Kinlochewe in Wester Ross, was the hottest place in the UK at a sizzling 27.4C.
Elsewhere Aviemore was an impressive 25.5C, Kinloss 24.7C and Lossiemouth 24.1C.
Aboyne was the hottest place in the north-east at 22.6C, whilst a sea breeze kept Aberdeen's temperatures at 17.9C and Inverbervie at 15.9C.
This meant temperatures in parts of the north-east, Moray and Highlands were hotter than Mexico City – which peaked at 22C yesterday.
The Pier Cafe on Loch Shin in Lairg, Sutherland, enjoyed roaring trade with its one-pedalo fleet due to the conditions yesterday.
Owner Catriona Corbett, 30, said: "Visitors love the idea of being way up in the Highlands and going out on the loch in a pedalo in the sunshine. They can hardly believe it, but it has been scorching for the past few days."
However, people have been told to make the most of the sun today and early tomorrow, with the Met Office warning of a band of rain moving in on Friday evening.
Aberdeen and parts of Aberdeenshire could experience some cloudy spells today, but inland areas will continue to enjoy temperatures in excess of 20C.
The north-west Highlands and Wester Ross is still expected to be the hottest place in Britain. But some parts of the Western Isles will endure some rain fall.
Last night, Met Office meteorologist, Greg Wolverson, said: "The nice conditions have come from high pressure over the North Sea, which has dragged warmer air up across the UK.
"On Wednesday, the warmest parts of Scotland and the UK were across the north-west Highlands for the third day in a row. Kinlochewe was 27.4C. That was the warmest in the UK.
"To put that into context, the average temperature at this time of year is about 16C. It is 10C above what we would normally be getting.
"It is still a pretty good day on Thursday as well. The best of the weather is again across the north-western highlands.
"Moray should do very well too, but it is likely to be a little cloudier across the Aberdeenshire coast."