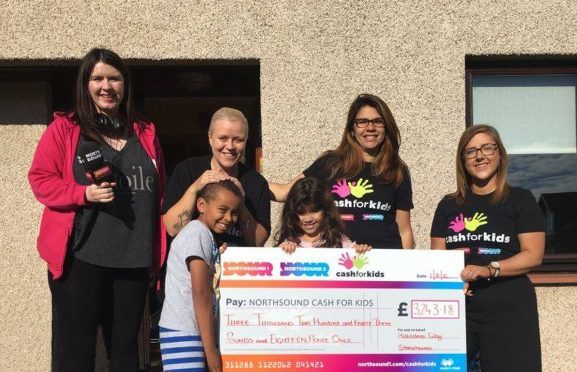 It's a thoroughfare which combines festivities and fundraising.
And now, Malcolm's way in Stonehaven has been named as the friendliest neighbourhood in the north-east.
The street has been celebrated as one of the most welcoming areas in the region by charity, Cash for Kids.
Four streets across Aberdeen and Aberdeenshire battled it out to be named the most community-spirited, while accumulating funds for the organisation.
Malcolm's Way, along with counterparts in Portlethen, Torry and Turriff were on the final shortlist, with residents raising £3,250.
Collectively, the four groups raised £6,200 for Cash for Kids, which will go towards aiding sick, disabled and disadvantaged children and young people in the north-east.
The winning initiative in Malcolm's Way was orchestrated by passionate fundraiser Patricia Bruce.
She and her neighbours organised a range of events including barbecues, bake sales and raffles to muster more than £3,000.
And their hard work will be rewarded with a party for their neighbourhood tomorrow.
North-east entertainer Lisa Lollipop, magician Gary Seagraves and the team from Denis Law Streetsport will lead events on the day.
Mrs Bruce said: "We are all over the moon to have raised so much for Cash for Kids and be named the most neighbourly community in the north-east.
"There's a great atmosphere on the street with everyone looking out for one another. The whole street is really excited about the party, which is a brilliant way for us all to get together."
Malcolm's Way has also held an annual Christmas lights fundraiser to generate cash for good causes since 2009.
Mrs Bruce handed £4,516 to the Friends of Anchor, following their annual display earlier this year, and hailed the help the charity gave to her husband, Tom during his cancer fight.
Oil worker Mr Bruce died in August last year, aged just 43, leaving behind his wife and their two children – Melanie and Daniel.
Cash for Kids charity manager, Michelle Ferguson, added: "All four communities put in a fantastic effort to raise over £6,000 for Cash for Kids. We greatly appreciate all their hard work.
"The money will make a huge difference to the lives of children living in Aberdeen and Aberdeenshire."