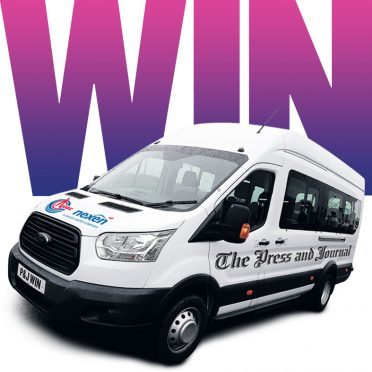 Time is running out to enter the Press and Journal's minibus competition with only one week left until the deadline.
Today's paper includes the last double token, which will help give organisations the opportunity of winning the 17-seat vehicle, which has been kindly donated by Nexen Petroleum Ltd.
This is the second year the P&J has offered local community groups the chance to take possession of the new bus.
And so far, more than 160 organisations have signed up with their bids to win the £37,000 prize.
Last night, Ray Riddoch, managing director at Nexen, said he was very pleased with the response the competition had received so far.
He added: "Nexen has been delighted to sponsor the community minibus again for a second year and it's fantastic to hear this year's competition has been so successful with 160 community groups registering to enter.
"Nexen knows that every one of these entries will be for a deserving cause and would make a worthy winner, which makes this competition hugely exciting and rewarding to the very end.
"A big thanks to all those who entered and I'm proud that Nexen is committed to supporting those organisations and charities who really make a difference to the place we live in."
Aberdeen's Altens Community Centre and Charlie House, Moray's Keith and Strathisla Community Bus Group and Ross County Ladies Football Club have all been collecting tokens in the hope of winning.
Groups must collect at least 50 tokens each to enter the competition and entries have to be in by September 6.
The lucky winners will be announced in the middle of September.
Post or hand in your entries to Community Minibus/Marketing Department, The Press and Journal, PO Box 10, Lang Stracht, Mastrick, Aberdeen, AB15 6DF.
Alternatively, you can drop them off at one of our branch offices: Stoneyfield Business Park, Inverness IV2 7PA or Suites 5&9, Alexander Fleming House, 8 Southfield Drive, Elgin, IV30 6GR.