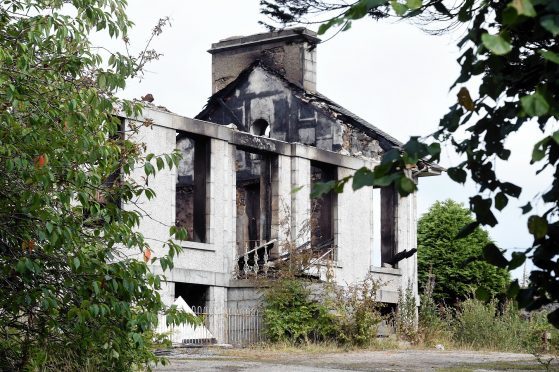 A north-east community group has been left angered following the loss of one of its most historic buildings.
The Georgian-era Hillside House in Portlethen was completely destroyed by a huge blaze last Friday.
Police yesterday confirmed the fire was being treated as wilful after a senior firefighter said there was nothing
that could have caused the flames to ignite of their own accord.
It took firefighters almost six hours to bring the blaze under control, by which time "100%" damage had been inflicted on the structure.
And last night chairman of the Portlethen and District Community Council, Ron Sharp, said it was frustrating nothing had been done to stop the building falling into such a state of disrepair in the years leading up to the incident.
He added there was no legislation in place which would have allowed the authorities to intervene and save the building, which is privately owned.
Planning permission for the redevelopment of Hillside House was granted by Aberdeenshire Council in 2007 to Aberdeen man, Alok Wanchoo, however the project is are not believed to have progressed any further.
Hillside House was once a garden centre and dates back to the 1800s, making it one of the oldest buildings in the Portlethen area.
Mr Sharp added: "It used to be a fantastic building a long time ago. Certainly Hillside House has been left to just to go to rack and ruin.
"We were worried about children getting in and playing in there during the summer holidays.
"It could have been restored to its former glory. The owner obviously had some sort of plan to redevelop it.
"But it has just been allowed to go into that state of disrepair, it has not always been that bad. We questioned the security of the property years ago, there was very little.
"We are angry about it, we see this happening all the time with old houses left to go into disrepair and there is no enforcement."
Mr Wanchoo could not be reached for comment.