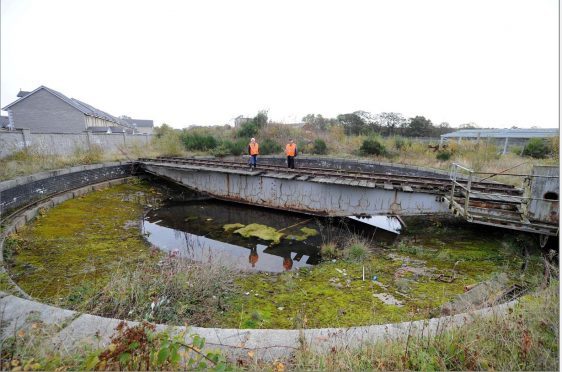 An A-listed railway turntable in Aberdeen is on track for a major refurbishment to bring it steaming back to life.
Last August, Ferryhill Railway Heritage Trust was awarded £298,158 by Historic Scotland for the purpose of renovating the former Ferryhill Locomotive Depot.
And, on Thursday, the group will mark the first major milestone of the ambitious scheme when the turntable is removed and taken to Kintore for urgent upgrade work.
It will be the initial step in the group's ultimate goal of bringing steam trains back through the Granite City.
Dating back to 1907, the steel structure is one of only three still in existence in Scotland and is classified as a Category A-listed structure.
The former Caledonian engine shed is a Category B-listed building, completed around 1852. Together, they formed the core of the Aberdeen Ferryhill Locomotive Depot until its closure in 1987.
Some site clearance has already taken place and specialist contractors, e-blast Ltd of Kintore, have been selected to remove and restore the historic piece of infrastructure.
They will blast and repaint it while checking for any damage that needs urgent attention.
Most of the restoration work on the rest of the site will be undertaken by Ferryhill Railway Heritage Trust members and volunteers.
As the venture gets ready to advance, the trust's chairman, Dr Jon Tyler said: "This is the high point of a project which was first suggested nearly 20 years ago – it is a privilege to be working on the project to bring steam trains back to the north east.
"I would like to pay tribute to all those volunteers who have given their time and expertise to make this happen and to the sponsors who have generously donated their services to the trust.
"I look forward to seeing the restored Ferryhill turntable in place in the not-too-distant future."
The group has received funding from several different sources, including Historic Environment Scotland, Railway Heritage Trust and The Architectural Heritage Trust, but is still around £100,000 away from their target for full renovation of the site.
Torry and Ferryhill councillor Graham Dickson added: "I think this work could play a really vital role in making Aberdeen an even better destination for visitors."