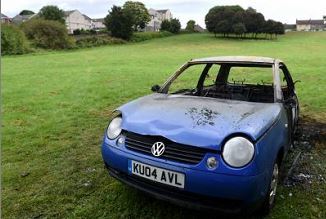 Firefighters in Aberdeen tackled two separate car fires yesterday morning.
Emergency services were called to Denwood near Woodend Hospital after smoke was seen rising from a vehicle by nearby residents at around 1am.
One fire service unit was sent from North Anderson Drive and firefighters were able to extinguish the blaze within 20 minutes.
A police spokeswoman said: "We were alerted by the fire service at around 1.25am. We were at the scene until around 3am."
The remains of the blue Volkswagen Polo could be seen by nearby residents throughout most of yesterday.
Emergency services were later despatched to the car park of a supermarket in the city centre after another vehicle burst into flames.
The call was made from Morrisons on West North Street at around 7.30am after shoppers approaching the store spotted a car on fire.
One unit was sent to the supermarket from the central station and four firefighters got the blaze under control.
They left the scene at around 8.10am.
Last night, police said there was not thought to be any connection between the two incidents and appealed for anyone with information to get in touch.
A police spokeswoman added: "The incidents are not believed to be linked, but we are keeping an open mind.
"We would appeal for anyone with information to contact police on 101."