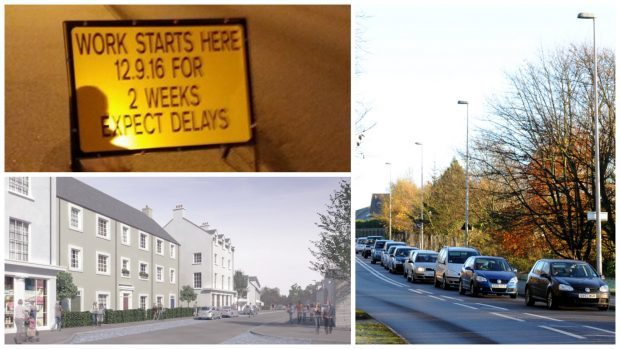 Motorists in Aberdeen have been warned to expect severe delays for the next two weeks during work on a busy commuter route.
Drivers on the A90 Parkway road, north of the Haudagain roundabout, will be faced with major queues until at least September 26 while infrastructure work begins around the nearby 4,700-home Grandhome development.
Contractors involved in the latter project will spend the next fortnight installing utilities at the site, including water, electricity, gas and drainage, in addition to creating new roads.
The project is being driven forward by the Grandhome Trust, a family-led group which has owned the land north of the Parkway for more than 300 years.
A spokesman for the trust said the traffic management measures were necessary for the creation of the new development, which could potentially include as many as 7,000 houses.
The spokesman added: "Work is about to start on the first phase of supporting infrastructure for the new community of Grandhome, which includes the core roads and utilities, including water, electricity, gas, telecoms and drainage.
"Bringing these services on site requires the installation of temporary traffic management measures in the area over the coming weeks."
The Parkway is used by thousands of commuters travelling to and from Aberdeen from the north of the city every day and, although plans have been implemented to try and reduce any problems, motorists have been warned to prepare for lengthier journeys.
The spokesman added: "The works are being scheduled to avoid peak travel to and from work times to minimise the inconvenience to local residents."
The first phase of the Grandhome Trust development will result in the creation of 630 new homes, built by Bancon Homes, Cala Homes and Dandara.
Phase two will include the construction of a health care centre, a combined heat and power unit, a recycling facility, a small cinema and a new primary school within the area.
Once complete, it is estimated the 790-acre site could accommodate up to 11,500 residents.