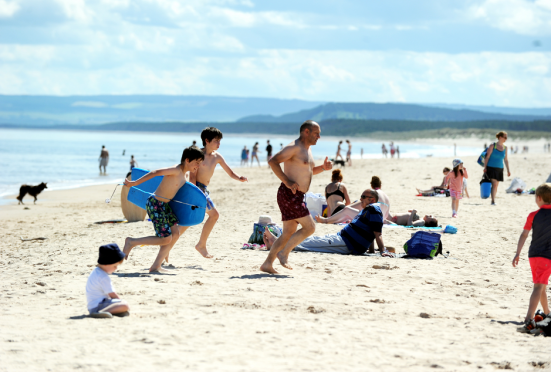 Forecasters have not ruled out an Indian Summer hitting the north-east this week, with forecasters predicting the hottest day in more than 50 years south of the border.
Temperatures are predicted to rise to about 22C across inland Aberdeenshire and Moray on Tuesday as a heatwave works its way north from France and Spain.
The Met Office is predicting temperatures to peak at between 30C and 32C in the south-east of England on Tuesday, putting parts of the country on a par with Bangkok, Thailand, Madrid and LA.
The forecaster has said the scorching weather isn't a "dead cert" for the north-east of Scotland, but that it could not be ruled out.
However the outlook for the West Coast and north-west Highlands is gale force winds, rain and cloud.
The Borders is set to be the hottest place in Scotland at about 24C.
The rising mercury could be dampened in coastal Aberdeenshire and Aberdeen with coastal haar possible, keeping temperatures in the low-teens.
Last night Aberdeen Met Office meteorologist, Greg Wolverson, said: "A lot of warm weather is pushing into the south of England. It is just a case of how far north these warm conditions spread.
"It does look by mid-week like pretty decent conditions across eastern Scotland, with temperatures potentially rising to above average for this time of year.
"The only caveat is when you get this warm air you get this sort of low cloud. That might play a part on the Aberdeenshire coast.
"There is a good chance we'll get above average temperatures, but not record-breaking."
The last time temperatures soared above 30C in September was in 2006 in Kew Gardens, which hit 30.5C on September 11.
If the mercury rises above 31.6C this week, which was reached at Gatwick on September 2 1961, then it will be the hottest day for 55 years.