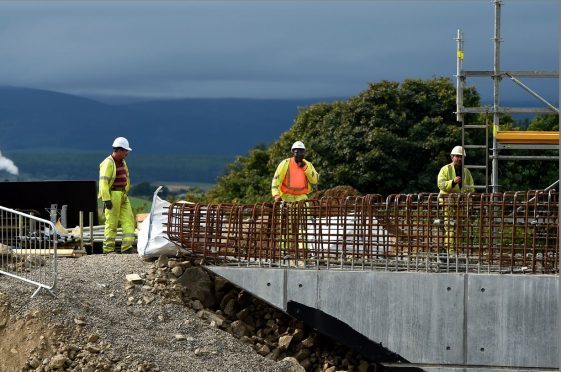 Work has resumed on the Aberdeen bypass following a four-day safety shutdown.
Transport bosses stopped construction on the £750million Aberdeen Western Peripheral Route (AWPR) on Friday, announcing only "critical" elements of the road would be worked on during the "safety stand down".
The decision came after the revelation that an investigation had been launched after a 29ft steel cage crashed down on the Goval Bridge section of the road, near Dyce, earlier this month.
But Transport Scotland have maintained that the stand down had been planned for weeks.
A spokesman said an investigation into the cage incident was continuing.
He said: "An investigation into this incident is currently ongoing. Any lessons learned will be applied to future work.
"While some works continued over the weekend, a planned safety stand-down was also held over the same period.
"Stand-downs such as these are common place across the industry to allow the contractor to refresh the health and safety training across the site, demonstrating the contractor's on-going commitment to health and safety."
Last week, whistleblowers contacted the Press and Journal to raise safety fears, and claimed it was lucky nobody had been seriously hurt.
And within hours of the story being published, Transport Scotland confirmed they would be holding the pre-planned safety stand-down.
As well as safety concerns a number of environmental issues have been highlighted, with a group of five residents in Deeside banding together to campaign against alleged damage being caused by the works.
Eminent biologist Antony Hawkins, one of the group, said: "I hope that the four-day shut down indicates that the AWPR contractors are now taking health and safety issues more seriously, not just for their own workers, but also for people living nearby.
"Noise and dust from the construction of the road has been affecting the lives of local residents and any risks to health and well-being must be addressed by the contractors.
"There are also risks posed by the heavy industrial traffic using narrow country roads and there is still a need for the contractors to minimise those risks.
"There is strong concern over the environmental damage being caused by the the road, particularly to local streams and rivers, and it is to be hoped that this is also being addressed."