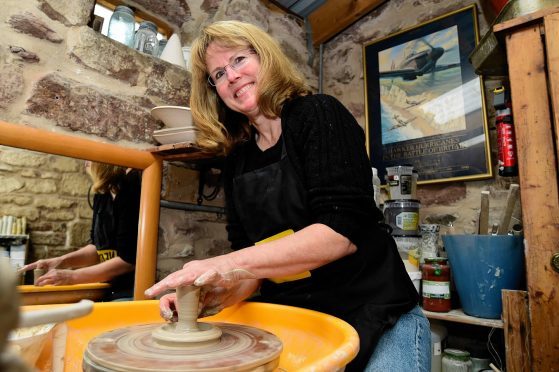 A north-east festival, which celebrates artistic talent and has gained positive reviews, reaches a climax this weekend.
North East Open Studios, which ends tomorrow evening, has seen more than 200 artists taking part across Aberdeen City, Aberdeenshire and Moray.
The event invites people from across the country into studios which would normally be closed off, for an insight into the artistic process.
Now in its 14th year, NEOS has paraded an eclectic variety of work at venues including Aberdeen, Forres and as far afield as Pennan.
Around 70 new artists are taking part for the first time this year, but many more are returning with fresh creations.
Lynn Pitt, who runs holiday cottages near the coastline alongside her husband, Bill, is exhibiting her pottery work for the third year.
She moved to the village 10 years ago from South Carolina.
Speaking at her Pennan studio Millshore Pottery, Mrs Pitt described the NEOS initiative as a "boon" to artists across the region.
She added: "It brings in a different crowd, people who appreciate art or who are artists themselves and I like participating in it.
"Unfortunately, there haven't been as many people turning out this year. For a couple days this week, we had heavy fog, which kept people inside.
"I'm also the only one out this way, there's not many artists beside me.
"But it gives artists an opportunity to open up and show things that they might not normally get the chance to during the rest of the year."
This year, Mrs Pitt made a selection of special glazes to complement her existing stock.
She said: "It's something different. It's a really positive thing, and it's good to be a part of."