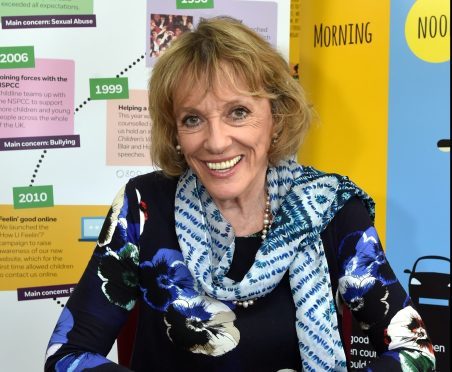 Dame Esther Rantzen paid a visit to Childline in Aberdeen to celebrate the charity's 30th birthday and urged more volunteers to come forward.
The organisation's base in Ruby House is run by 95 volunteers, who spend countless hours helping children in difficult circumstances, and Dame Esther warned yesterday that more people are desperately needed.
She established the charity in an attempt to safeguard children and provide them with an outlet where their voices could be heard.
It has subsequently evolved from a phone line service to offering online support, and more than 121,000 counselling sessions have taken place since the Aberdeen branch opened in 2004.
Volunteers are dealing with a whole new host of problems which they believe have been exacerbated by social media, alongside harrowing cases of sexual and domestic abuse.
Dame Esther said: "What has been added to the mix is social media and it's something I simply don't understand.
"It isn't important in my life, but for children and young people, it plays a huge role, with the cruelty of people who can hide behind a screen.
"We're also dealing with an epidemic of sexting [incidents] and the number of cases of sexual abuse has increased, because paedophiles have such easy access to children online."
Dame Esther is keen for the charity to reach out to secondary schools, concerned that teenagers may associate the helpline as a service for much younger children.
She paid a visit to Albyn School as part of an NSPCC service function, and a reception hosted by Aberdeen Asset Management at Union Plaza.
The finance company has donated £15,000 to the charity which will further assist its profile in schools.
Dame Esther added: "We have remained relevant to schools as times have changed and we are now looking towards handing out materials in secondary schools.
"Childline's aim was to provide a lifeline for children who couldn't ask for help in any other way.
"The charity saves so many lives and protects so many children from pain, but we could not do it without the warmth and compassion of our Aberdeen-based volunteers who are so skilled and committed."
Children can contact Childline 24 hours a day, 365 days a year on 0808 800 5000, by text on 88858, or through visiting www.childline.org