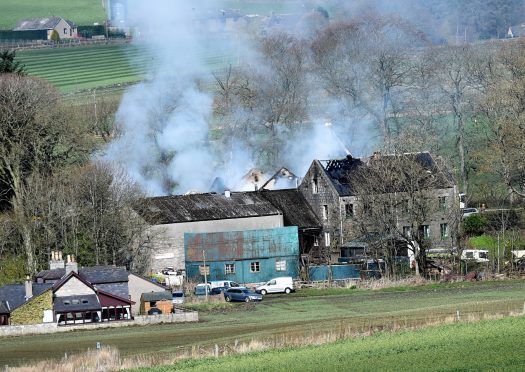 An investigation into the cause of a blaze which ruined a historic Aberdeenshire building – described as a "community of craftsmen" – is continuing almost five months on.
Fire investigators have been unable to pinpoint the cause of the incident at Lethenty Mill, near Inverurie, on April 28.
The blaze devastated a number of businesses at the site, but all traces of its cause are believed to be lost.
A fire spokeswoman said: "Due to the structural damage the building sustained during this fire, our crews were unable to safely enter the area where the fire most likely started.
"As a result, we have yet to determine the cause of this fire. We do not believe there are any suspicious circumstances related to the incident. A further excavation may take place in the future for insurance purposes."
The Garioch mill was home to Nina'a Apartment, Lethenty Cabinetmakers, Cinecosse, Lethenty Mill Furniture, Joss Engineering an art gallery and part of Jim King Autotune.
Hundreds of thousands of pounds worth of classic vehicles, rally cars, antique furniture and filming equipment were among the ruins of the mill.
Graeme Winram's business, Lethenty Cabinetmakers, was one of the worst affected, but they have been able to save a number of machines from the building.
Now he has revealed he hopes to be up and running in a new workshop by the end of the year.
He said: "We are not into a new workshop yet but I am hoping it won't be too much longer.
"We have been able to do some work for clients, but we can't make furniture without a workshop.
"I'll always feel sad about what happened to Lethenty because I love the place. As a business we'll have to move on and look to the future."