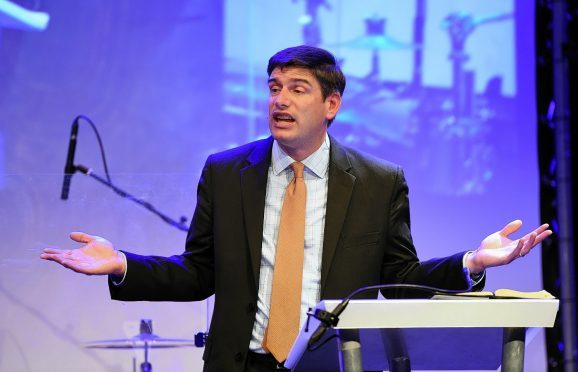 The organisers of a five-night Christian celebration in the north-east's biggest town have said the turnout "exceeded expectations" after thousands gathered to hear a renowned US preacher.
Evangelist Will Graham – grandson of the world famous Billy Graham – led a Celebration of Hope tour in Peterhead last week.
More than 4,800 people attended events in the academy, which proved so popular space was also opened up in nearby churches.
Mr Graham's sermons were also "simulcast" to venues in Fraserburgh, Banff and Elgin and a further 5,200 people watched live online globally.
Addressing the crowds between October 5-9, Mr Graham said: "God loves you. He knows everything in your heart. He wants to give you the hope and love that you're looking for.
"Maybe you're dealing with guilt, anger or hopelessness. God wants to change all that. All you have to do is receive His forgiveness."
Last night Tom Malone, the chairman of Peterhead's celebration executive committee, said he was astounded by the "absolutely wonderful" turnout.
"Obviously it has exceeded our expectations, but – at the same time – fulfilled them, because we were believing for this," the local councillor said.
"To see so many people responding, it is absolutely fantastic."
Mr Graham's visit to Peterhead was the evangelist's first time preaching in Scotland and marked a homecoming "of sorts".
With forefathers from the Graham, Bell and Cunningham clans, Mr Graham was following in his grandfather Billy's footsteps returning to Scotland to preach.
Billy Graham – who advised US presidents including Dwight D. Eisenhower and Lyndon Johnson – hosted a series of celebrations in the country over several decades.
In 1955 he spent more than a month in Glasgow and followed his stay with a tour of Scottish cities.
He returned in 1961 and then again in 1991 when he spoke at Pittodrie Stadium in Aberdeen.
In total, more than three million people heard Will Graham's grandfather preach in Scotland.