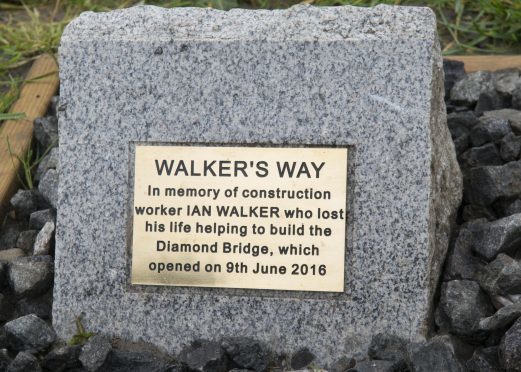 A poignant tribute has been unveiled to a workman who was killed during construction of a new Aberdeen bridge.
Ian Walker died following an industrial accident at the Third Don Crossing construction site in January.
The 58-year-old, from Dundee, was working for Balfour Beatty when the fatal incident occurred.
Yesterday, the father-of-three's family and co-workers gathered to watch and pay their respects as the Diamond Bridge footpath was formally named Walker's Way in his memory.
A plaque and signpost were both unveiled at the path, which runs alongside the bank of the River Don, and will leave an enduring legacy to Mr Walker.
His children, Kirsty, Steven, and Andrew were among those present at the ceremony.
His daughter said: "Our dad was a good solid family man. He meant a lot to many people and is very much missed. We are very grateful to Balfour Beatty, the council and the local community for honouring his memory."
The accident took place at the project site at Danestone, north of the river, on January 13.
Paramedics were called, but Mr Walker was later pronounced dead at the scene.
Work on the bridge was shut down for four days following his death.
George Hood, Balfour Beatty's regional managing director, added: "We are pleased to see this tribute being rightfully paid to Ian Walker who was a highly respected colleague. We were pleased we were able to join with the family and officially name Walkers Way in Ian's honour."
The £22.3million crossing, which connects Grandholm with Tillydrone, was officially opened in June.
Last month, two reports were published which highlighted a series of blunders that led to the project only being completed months over schedule and millions over budget.
The reports, by officials within the authority and watchdog Audit Scotland, have been released to the council's audit committee.
An investigation was launched by the police and the Health and Safety Executive (HSE) into Mr Walker's death.
A report was subsequently submitted to the Procurator Fiscal.