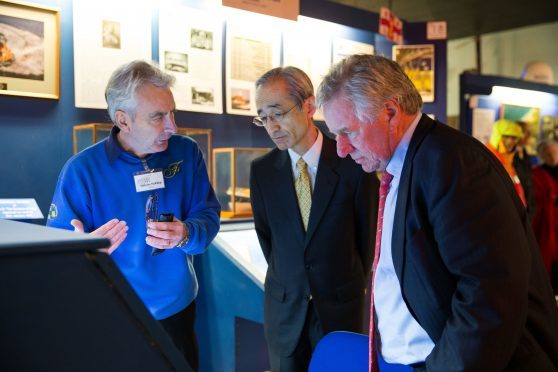 The head of Mitsubishi flew into the north-east yesterday to acquaint himself with plans to preserve the childhood home of the man dubbed the Scottish Samurai.
Nobuyuki Hirono met with Aberdeen Asset Management chief executive Martin Gilbert at the family home of Thomas Blake Glover in Bridge of Don.
The site has been closed to the public since 2012, because of falling visitor numbers and rising costs, but there are hopes it can be restored to its former glory.
It was bought by Mitsubishi in 1996 and subsequently given to the Grampian-Japan Trust before being converted into a museum.
Aberdeen Asset Management is currently a partner in plans to preserve the historical property and Mr Gilbert has vowed to do "whatever it takes" to bring the project to fruition.
Earlier this year, the city council, which took over the running of the site in 2014, approved plans to spend £150,000 refurbishing it.
Blake Glover is highly regarded in Japan as a result of his work transforming the country's economy during the Meiji Restoration.
Mr Gilbert argued that interest in the man and his achievements could enhance links between the north-east and the Land of the Rising Sun.
He added: "There is a growing interest in the life of Thomas Blake Glover in the north-east of Scotland, where his contribution to the modernisation of Japan has not always been fully recognised.
"In Japan, he is a much-revered figure and his former home and surrounding gardens in Nagasaki attracts an average of two million visitors every year.
"We at Aberdeen Asset Management have long understood the importance of Blake Glover and how his industrial and cultural influence played a significant role in international trade with the Far East.
"We continue to work with all the relevant partners in the north east to ensure that his contribution is acknowledged and honoured and that the links he made are nurtured and flourish.
"We are therefore very keen to see the Aberdeen Glover House act as a hub for further building our relationships with Japanese business and educational institutions, so it can be a reminder to all Scots of our deep roots of entrepreneurism and globalisation."
After visiting Glover House, Mr Hiron