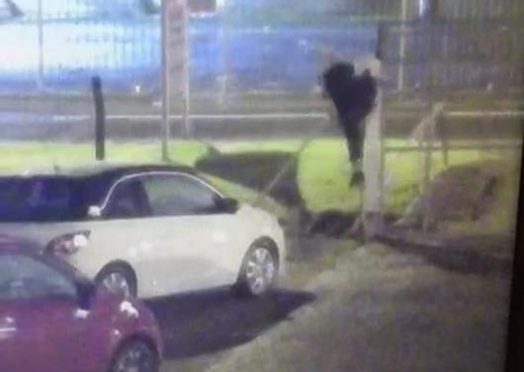 The owners of a family-run garage in the north-east have offered a "massive reward" for information, which will help them catch a vandal who has wrecked cars on their forecourt.
Avril and Gordon Murray manage Murray Motors on Fraserburgh's South Road and have been the victims of a 14-year campaign of abuse.
Now, the culprit has been caught on CCTV and the couple have offered a reward to anyone who can help to bring an end to their misery.
Murray Motors has been a fixture in Fraserburgh for three decades. During the regular incidents of vandalism the paintwork of cars in their fleet has been scratched.
The most recent attack took place on Friday, October 14 and the alleged perpetrator was detected on CCTV clambering over an eight-foot fence to cause the damage.
Last night, Mrs Murray said: "We're offering a substantial reward for information that will lead to the successful conviction of the person or persons organising and answerable for the 14 years of vandalism and damage done.
"It originally started around 14 or 15 years ago and we've had 62 cars damaged to date.
"Our insurers reckon the damage has been worth up to £130,000 and, obviously, because of this, our premiums have had to go up."
She added that paint stripper had even been thrown over cars in the past to stop them from being sold. The couple have now been forced to hide vehicles inside the showroom once they have been sold.
In a fresh development, she also revealed the alleged vandal was spotted at a bus stop near Fraserburgh's Tesco branch on the day of the most recent incident.
Mrs Murray said the man was seen eating a sandwich "while wearing black gloves". She believes a bus driver, or another driver arriving in the town from the A90 Peterhead road, may have witnessed the man and have information.
In the wake of the most recent incident, police appealed for witnesses to call 101.
Constable Justine Griffiths said: "The garage is on the main road leading into Fraserburgh, so it is possible that a passing motorist may have seen something.
Last night, a spokeswoman confirmed inquiries were ongoing.