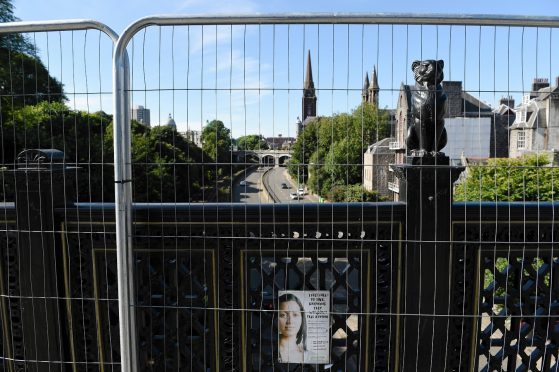 Barriers to prevent people falling from an historic bridge in Aberdeen have been given the green light – despite concerns they may be inadequate.
A structure of stainless steel wires and posts has been chosen as the best way to improve safety at Union Bridge in the heart of the city.
It would replace temporary fencing erected in June across the Union Street feature in an effort to prevent injuries and deaths.
The bridge dates from the start of the 19th century and spans the dual-carriageway and the main railway line heading north.
A hundred years later, it was widened and the popular black cast-iron "Kelly's Cats" added.
Members of the planning committee backed the feature, which will include lighting after it was first suggested three years ago.
But critics questioned why the barrier would not extend to the stone parapets at each end of the bridge.
And even those who backed the design – rejected by the city centre community council as being out of keeping with the area – conceded it was not ideal.
Convenor Ramsay Milne said: "I'm not happy about this, but I think it's something we probably have to do in the circumstances.
"It is not a satisfactory solution, but it is the one available to us."
Police records have highlighted almost 150 occasions where people have jumped from the bridge – or threatened to jump – since 2008.
The committee heard that many motorists and train drivers had been left traumatised by these incidents.
Historic Scotland officials have given their approval for the change – which has no physical impact on the bridge and could be removed in future.