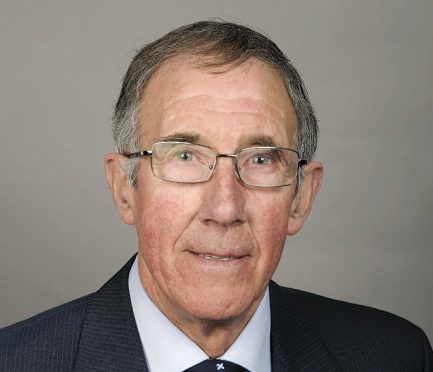 A councillor in the midst of a row after he lobbied colleagues to support his controversial wind turbine will today seek consent to build a home on the same bit of land.
Turriff councillor Sandy Duncan has referred himself to the Standards Commission for sending e-mails to his SNP colleagues on the Banff and Buchan area committee, asking them to support his turbine plans.
He sent the e-mails from his work account, rather than his personal one.
The turbine – which had been opposed by locals and the council's planning service – was approved, prompting claims from the Tories of "blatant cronyism" after it emerged each of the committee's SNP members had backed the proposal.
The application will now be reconsidered at the council's infrastructure services committee at a later later.
But today, Mr Duncan will face a fresh battle to convince colleagues to support his plan to build a home on the same patch of land at Forglen.
Stephen Archer, the council's director of infrastructure services, has warned that approval would "destroy" the local amenity.
He tells councillors in his report that the house would not "respect the setting of the site".
"The proposal would have a significant adverse impact on the existing small area of woodland and would destroy the amenity value of this site," Mr Archer states.
The Marnoch and Deveron Valley Protection Group has also opposed the scheme.
In a letter to the planning service, campaigner Jacky Player said a new settlement within the Deveron Valley would adversely affect the landscape's character.
"At present the site is wooded and a substantial number of trees may have to be felled to allow for a house and access drive," she added.
Banff and Buchan area committee will discuss the application at their meeting today.