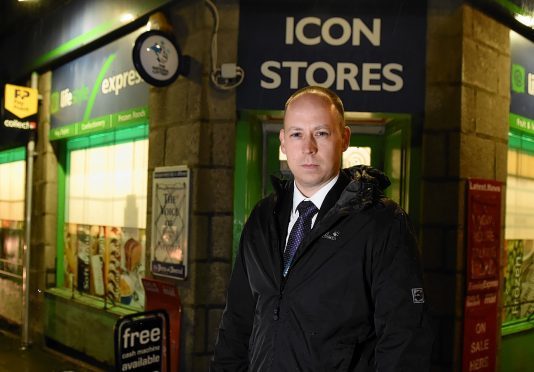 Police were last night hunting a gunman who raided a city centre shop and escaped with just a few pounds.
The thief targeted Icon Stores, on the city's George Street, just after it opened.
Police said he went into the shop, brandishing a firearm, and demanded money from a terrified staff member.
The robbery comes just days after armed robbers held up a bookies in the Cornhill area of the city, making off with £3,000.
Detective Inspector Lee Jardine, who is leading the latest investigation, said: "At about 6.10am, a male suspect entered Icon Stores on George Street.
"He threatened a member of staff with what appears to be a firearm
"He then demanded cash and stole a two-figure sum of money and some goods.
"Fortunately no-one was injured but it was an extremely frightening experience for the member of staff involved."
DI Jardine said robberies involving firearms were rare in the city.
He added: "This is a rare occurrence in Aberdeen but the fact that someone has presented an apparent firearm raises the potential risk factor.
"If someone is in possession of a firearm and is prepared to use it to commit a crime, we need to chase them."
Officers are now trawling through CCTV footage in search of clues and carrying out door-to-door inquiries in the surrounding area.
DI Jardine made a special appeal to commuters who use the route to come forward with any information which might be useful.
He added: "We would like to appeal directly to commuters to think whether they saw anything unusual or suspicious while travelling through George Street."
Drivers with dashboard cameras who were in the area at the time, were also asked to check their recordings for anything suspicious.
DI Jardine said police patrols would also be stepped up in the area.
Local councillor Michael Hutchison said he was very surprised to hear that a gun had been used to rob the store.
He added: "I am sure the police will be doing their very best to catch those responsible."
The suspect is described as being white, slim and around 5ft 8in to 5ft 10in. It is thought to be in his late teens or early 20s.
He was wearing a dark waterproof hooded jacket with the hood pulled around his face.
Meanwhile, officers are continuing their investigations into the robbery at the Coral at Cornhill Shopping Arcade, which happened about 9.40am last Thursday.
Two men walked into the shop – one of them brandishing a weapon – and demanded money.
No one was injured but the culprits made off with £3,000.
Detective Sergeant Mike Reynolds last night urged anyone who had seen anything suspicious to come forward.
"I would appeal to anyone who was in the area around the time given who may have seen anything to get in touch with us."
Police said the first suspect was white, of stocky build, in his early 20s, and between 5ft 10ins. He may have had facial hair.
He was wearing a black jacket with white emblem on the left chest area, a grey hood pulled tight around his face, dark gloves, light tracksuit bottoms and trainers.
The second suspect was also white, around the same height and age, and slim.
He was wearing a black jacket, with a black hood pulled tight around his face, had copper or red facial stubble, dark gloves, dark tracksuit bottoms and trainers.
Anyone with information can contact police on 101 or Crimestoppers on 0500 555 111.