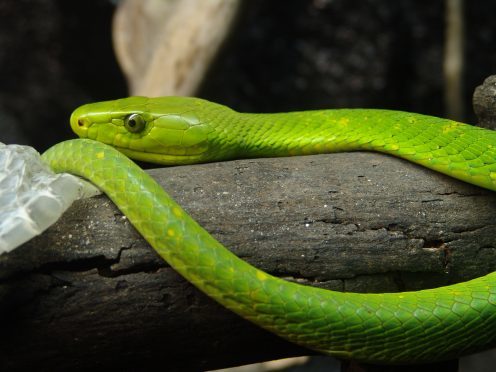 One of the world's deadliest snakes was an unexpected passenger on a cargo ship docked at Aberdeen harbour.
The green mamba was found on the west African vessel that had docked in the city on Wednesday, and a police escort was needed when animal officers were called to remove it.
It is thought workers on the ship managed to put the snake into a box before contacting the Scottish SPCA.
Officers collected the snake but could not keep it at the charity's centre in Aberdeenshire due to "severe health and safety concerns", with the closest anti-venom stored in London.
Police were called to help the SSPCA transport the reptile as the charity needs police escort when moving venomous animals.
A bite could prove fatal in less than 30 minutes without specialist treatment, experts say.
The mamba was eventually put down after an unsuccessful attempt to find it a home with specialist reptile keepers.
Scottish SPCA chief inspector John Carle said: "The green mamba snake is one of the most deadly snakes in the world.
"It was picked up in Aberdeen by one of our animal rescue officers after arriving on a boat from Africa.
"Sadly the snake had to be put to sleep after our attempts to rehome it to specialist reptile keepers were unsuccessful.
"We could not keep the snake in our centre due to severe health and safety concerns, as the closest anti-venom is held in London."
The green mamba is usually found in Africa rainforests and feeds on small birds, rats, frogs and lizards, but some species are kept at homes in the UK under dangerous wild animal licences.