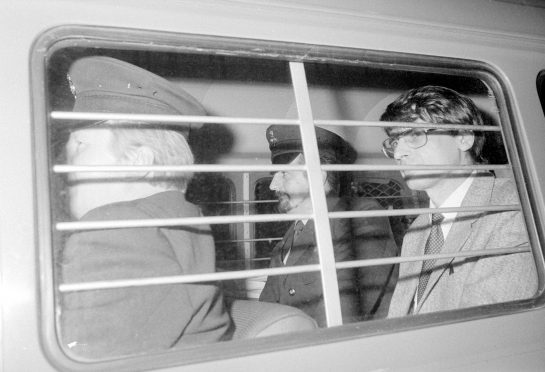 Born in Fraserburgh, serial killer Dennis Nilsen died in HMP Full Sutton after being convicted of murdering six men and attempting to kill two others.
He was 72-years-old and was 34 years into a life sentence handed down to him in 1983.
David Tennant is currently portraying the north-east serial killer in the STV drama Des and said he was relieved Nilsen is not alive to watch the series about his arrest and trial.
Here is a timeline of some of the major events in Nilsen's life.
November 23, 1945: Dennis Nilsen is born in Fraserburgh to Betty Whyte and Olav Nilsen.
1954: Nearly dies after being swept out to sea at Inverallochy beach, four miles east of Fraserburgh. The family later move to Strichen.
1961: After joining the Argyll and Sutherland Highlanders in Inverness, he joins the British Army as a cook for the Queen's Royal Guard. He is later reassigned to a regiment in the Shetland Islands, where he ends his 11-year military career  in October 1972.
December 1972: Joins Met Police, lasts eight months before quitting.
November 1975: Moves into a flat in Melrose Avenue, north-west London.
December 30, 1978: Carries out his first murder – killing 14-year-old Steven Holmes, strangling him as he walked home from a concert. He hides the body under his floorboards.
December 3, 1979: Strangles Canadian tourist Kenneth Ockendon, 23, with a headphone chord.
May 17, 1980: Finds runaway Martyn Duffey 16, sleeping rough at Euston railway station. Takes him home for a meal, drowns him in the kitchen sink. Kills another three times over next three months.
November 1980: Tries to strangle Scots barman Douglas Stewart as he sleeps in a chair. Police dismiss Mr Stewart's complaint, putting it down to the fact both men had been drinking.
January 1981: Murders a young Scot he meets in the Golden Lion pub. Kills two more men between February and April.
September 18, 1981: Discovers Malcolm Barlow, 24, slumped in his doorway and calls an ambulance. The next day Barlow tracks Nilsen down to thank him, but is strangled at his flat.
May 1982: Invites drag queen Carl Stotter to new flat in Cranley Gardens in North London and strangles him when he is asleep. Nilsen releases Stotter, who assumed it all had been a nightmare and did not go to the police.
January 26, 1983: Strangles and dismembers Perth man Stephen Sinclair, 20.
February 1983: Crimes uncovered when health inspector finds human flesh in a blocked pipe. When police search Nilsen's flat, he confesses to killing 15 people.
October 24, 1983: Tried at the Old Bailey.
November 4, 1983: Jailed for life.
May 12, 2018: Dies at the age of 72.