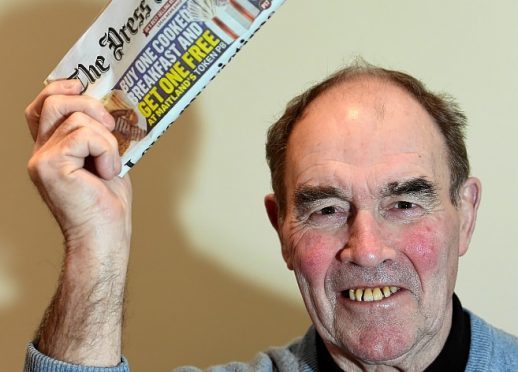 Five Press and Journal readers have been given a helping hand with their Christmas shopping after being named as the winners of a competition.
Inverurie based butcher Donald Russell offered five readers the chance to win a £200 voucher to spend on its offerings just ahead of the festive period.
Readers were asked to answer the question 'what in blankets give the name of a tasty festive trimming?' and five lucky people were selected as the winner.
Long term Press and Journal reader, Shelia Diack, received one £200 voucher.
The 69-year-old from Inverurie said: "I've read the Press and Journal for all of my married life.
"I take part in lots of competitions; I just like to do it as a spur of the moment thing.
"Last year I won a trip to Pitlochry.
"It's brilliant to win the £200 voucher, we have a Donald Russell factory here in Inverurie.
"I'll definitely be making use of it around Christmas time."
Fraserburgh man Jim McKay was another one to be named as a winner. He said: "I do lots of competitions, I've won a practice day at Gleneagles and tickets for the Scottish open.
"I was delighted to win this time round, I'm heading to my daughters for Christmas and this will take a lot of her shopping bill.
The 75-year-old added: "I've been married for 51 years and we've been reading the Press and Journal the whole time."
Another of the winners was Christine Milne from Peterhead.
The 74-year-old said: "I take part in a lot of competitions and have won a few over the years.
"I was delighted to see that I've won, the £200 will definitely come in handy over Christmas as I'm having my family round for New Year's."
"I've read the Press and Journal for years, I was brought up on it."
Morag Morrison also won.
The 79-year-old Skye resident said: "I used to take part in competitions but I haven't recently.
"I decided to take part in this one and I forgot about it until I realised I had won.
"I will be using it for some Christmas goodies."
Jan Smithson was another to be given the boost with her Christmas spending.
The Nairn resident said: "I take part in a lot of Press and Journal competitions, I'm delighted to have won this time round."