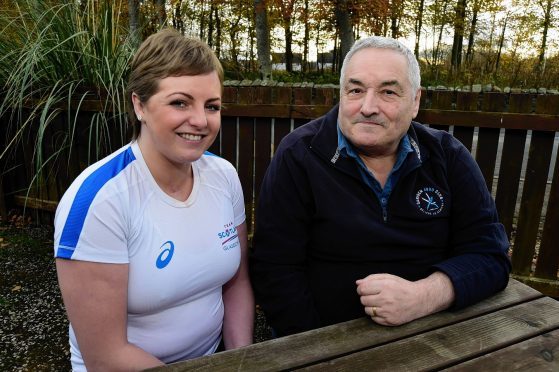 A north-east judo star who was only given a 1% chance of survival yesterday met one of the many fundraisers who helped bring her back home.
Stephanie Inglis, who won silver at the Commonwealth Games in Glasgow, was involved in a motorcycle accident while travelling Vietnam over the summer.
The 28-year-old was riding a bike taxi in the Ha Long region when her skirt became trapped in the vehicle's rear wheel. She was pulled off the taxi and was in a coma for three weeks.
A fundraising campaign was started to cover her medical bills and to repatriate her into the UK.
And yesterday, she visited Mintlaw where local people were among the many involved in helping her family raise more than £320,000.
Robert MacDonald, who shaved his head for the cause, raised almost £900 and was delighted to see her back on the mend in the north-east yesterday.
The 67-year-old said he felt compelled to help the sports star because of his own son's involvement with judo.
"Judo is like a big family," he said.
Mr MacDonald's son, Morgan, achieved First Dan in the sport earlier this year.
He added: "I was totally numb when I heard about her accident.
"I told my wife the next morning that I would be getting my head shaved, and within a week it was all set up.
"We ended up raising £845."
He met a grateful Ms Inglis yesterday afternoon for lunch, before she gave a talk to Mintlaw Academy's pupils on her experiences with judo and her injury.
"She gave a talk about her injury that made her miss out on Rio and how she went to Vietnam to teach English to underprivileged kids for six months," Mr MacDonald added.
"She told them what it was like competing in the Commonwealth games and how it was training for it."