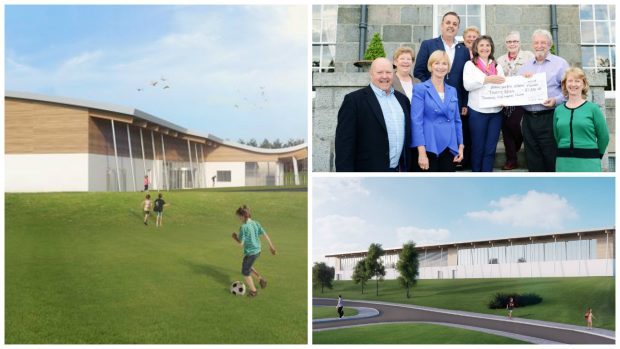 Plans for a new multi-million pound north-east sports facility gather "momentum" towards determination next week.
The plans for the £8.5m leisure and sports village include a six-lane swimming pool, a training pool, a three-court sports hall, fitness suite, squash courts, changing facilities, cafe and reception.
The application has been referred to the Marr area committee as it represents a departure from the development plan.
The site at Hill of Banchory also includes plans for 90 residential dwelling houses by Bancon Homes Ltd covers an area of 7.9 hectares.
Residents of the Deeside town have been calling for upgraded sporting facilities for many years, with the current swimming pool at Banchory Academy only 20m in length.
The Banchory Sports Village Trust has been fighting to bring the Banchory Sports Village to fruition and was tasked with raising £700,000 by Aberdeenshire Council.
Fundraising manager for the trust, James Knowles, said: "As at the end of October, we have £665,000 in the bank. I feel confident that we will raise the further £35,000 in the very near future through donations and another fundraiser early next year.
"I am delighted to get to where we are, not that it all hasn't been very hard work! This project has been spoken about for many years but now the finish line is in sight."
Councillor for Banchory and Mid-Deeside Karen Clark said:
"It is fantastic to see the planning application coming forward and progress being made after so many years. I'm sure that all the local people, councillors and community council have a desire to see the new sports centre. This has been needed for 20 years. Once it got onto the Capital plan, the council procedures kicked-in.
"Most people still don't quite believe that it's going to happen, but here we are. It's great to see it going to the next stage and gaining momentum."
If planning permission is granted, work could begin in summer 2017 with a completion date of December 2018.