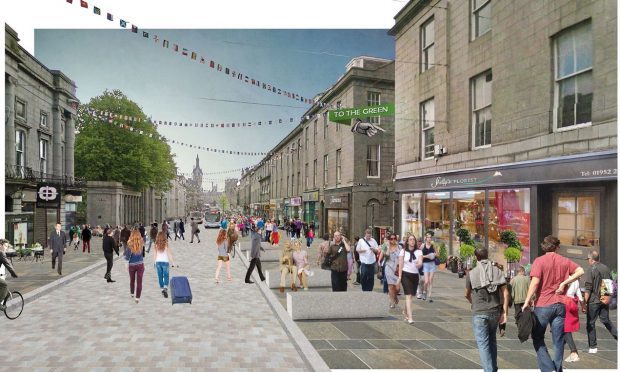 Council chiefs insist the flagship city centre masterplan remains on course despite the man in charge taking on another high-profile role.
In January council chiefs appointed Marc Cole to lead the masterplan of 49 projects for the Granite City.
The £103,000 a year staffer has had a 30-year career as a "regeneration tsar" working at various English councils from Manchester to Merseyside, as well as across other public, private and third sector bodies.
But Mr Cole had to step into the shoes of Pete Leonard – the authority's embattled infrastructure director – after he was signed off on long-term sick leave.
A new recruit is to take on Mr Leonard's mantle on an interim basis from next week.
But a former senior administration member has said there were "legitimate concerns" that the masterplan was being side-lined.
Mr Leonard had overall responsibility for the city's scandal hit crematorium where baby ashes were mixed with adults and not returned to grieving relatives.
He was due to return from holiday on August 15 but has since had sick lines signed off.
Ross Thomson, north-east Conservative MSP and former finance vice convener, said: "Marc Cole was brought in to oversee the regeneration process because of his vast experience and track record of delivery in projects for other parts of the UK.
"We must ensure that sufficient focus remains on this vital job of transforming our city centre over the coming years."
SNP group leader Stephen Flynn said he was "absolutely stunned" at the disunity in the Labour, Tory and Independent alliance that rules the council.
He added: "You have to ask if councillor Thomson is spending enough time at the council if he thinks this."
Finance convener Willie Young said: "I am surprised councillor Thomson has suggested our focus is not on the city centre masterplan when his deputy leader, councillor (Alan) Donnelly, is vice convener of finance which is responsible for the city centre masterplan.
"I can confirm that we have an interim director of communities housing and infrastructure starting on Monday for the period of Pete Leonard's sickness absence which will relieve any pressure on our city centre director."