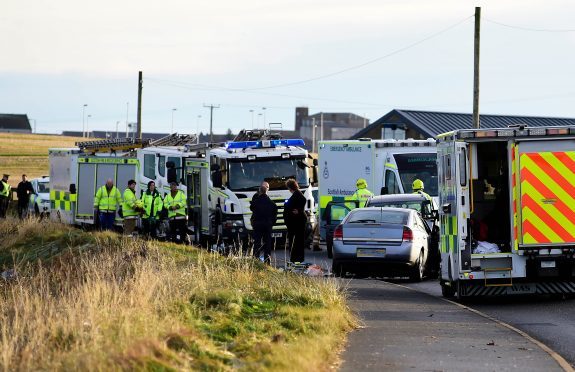 Two helicopters were scrambled to a head-on crash involving three children under-five yesterday.
The two cars collided on the B9031 Fraserburgh to Sandhaven route about 8.45am.
Fire, police and paramedics attended, along with an air ambulance and a coastguard helicopter.
Both drivers were airlifted to Aberdeen Royal Infirmary with serious injuries, while the children – who were lifted out of the wreckage still strapped in their car seats – were unscathed.
The single-track country road was closed for almost five hours, with motorists diverted towards Macduff and Peathill to get into Sandhaven.
The women's vehicles, a dark grey Peugeot 4007 and a silver Vauxhall Vectra, were badly damaged, with the wings ripped off and airbags deployed.
Last night, a fire service spokesman said two crews from Fraserburgh had attended and had cut one woman free from the wreckage of her car.
A police spokeswoman said: "An air ambulance and coastguard helicopter both attended and took a female each to hospital.
"They have serious injuries, but they are not in a life-threatening condition."
The road was closed at the Watermill Road junction in Fraserburgh, with road blocks in place on ancillary access routes to the village. At one point, a digger was brought in to enforce the closure.
At around the same time, emergency services were also dealing with another incident near Westhill.
The three-car crash, involving a grey Nissan Micra, silver Ford Mondeo and a black Vauxhall Insignia, happened on the A944 Westhill to Tillyfourie road at about 8.40am.
Nobody was injured, but the road was partially blocked.